"So far as I am able to judge, nothing has been left undone, either by man or nature, to make India the most extraordinary country that the sun visits on his rounds. Nothing seems to have been forgotten, nothing overlooked" – Mark Twain
Every part of our country is a reflection of its ancient culture and beliefs. Marked by great epics like Mahabharata and Ramayana, to the civilisations of  Mauryans, Mongolians and Harappans, to invasions by Greeks, Persians, Portuguese, Britishers and Mughals, to the grandeur of its subsequent kings and their kingdoms, the land of this country speaks for its historical heritage and its beauty, both, starlit and scarred.
Everywhere you go will give you a taste of India given its varied diversity so we bring to you 5 of the best luxurious experiences that give you India at a glance. Each of these experiences also folds in adventure and activities in the most comfortable and rejuvenating way possible.
MV Mahabaahu Cruise :
This cruise is rated as the only 5-star river cruise ship in the country, no wonder it was showcased on National Geographic as well.
Along with the gorgeous and extravagant rooms, MV Mahabaahu has structural features that no other cruise ship on India offers such as hair salon, elevators, pool, spa and private balconies.
For the book lovers, the cruise also has a library. Grab a nice read on the sundeck with some tea or coffee, or have your favourite drink at the fancy little bar cum lounge.
The cruise also takes you on a wildlife excursion while you are on the ship, let alone the off-board experiences. While on the sundeck, get your binoculars on and look out for the wild animals by the river. Buffaloes, elephants are common sightings along with flocks of different types of birds drinking water by the river.
One special evening on the 7-day cruise, the guests are also introduced to Assam's cultural extravaganza. The evening is lit by the traditional music and dances, which by the way, you can participate in too!
With MV Mahabaahu, you can also visit the tea plantations, the monasteries, the ancient temples and of course, the Serengeti of India, Kaziranga.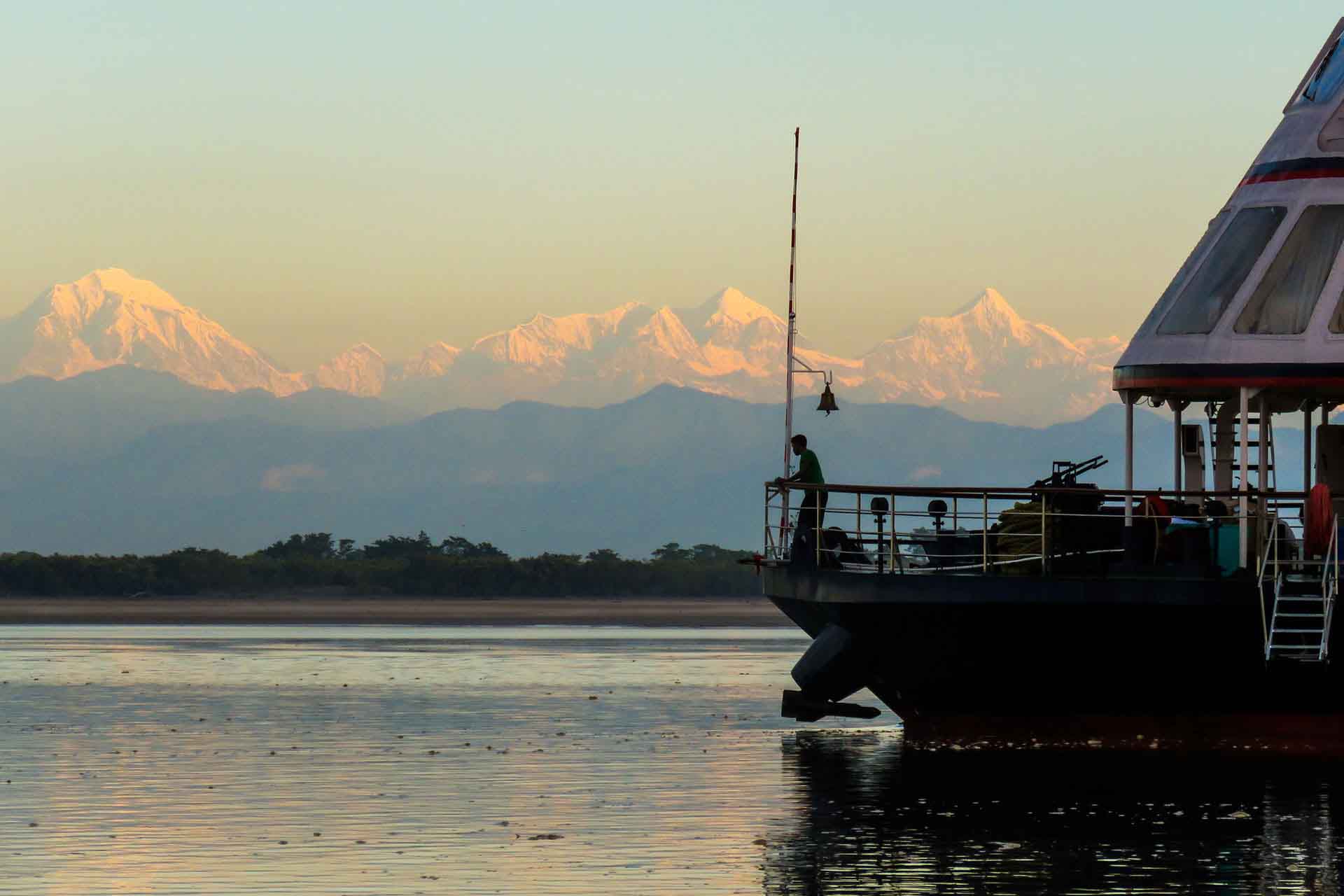 Kerala Houseboats – Vaikundam and Sauver Nigam :
To really know about Kerala, one must understand the waterways around which the state revolves.
If you're looking for a private and romantic getaway, then the Sauver Nigam houseboat could be the trip that you're searching for. It has 2 furnished cabins styled in a traditional yet modernized way.

In case, you have a bigger group, probably the entire family out for a trip or a college reunion, the Vaikundam is a great choice. It has 9 well-appointed cabins, each with private balconies.
The special feature about Vaikundam is that it's a long narrow boat which allows safe passage into the narrower canals and hence a fuller, more realistic insight into the lives of the local inhabitants and their culture.

Dine on the chef's specialities in the dining room or the front deck, witnessing the lush surroundings.
Play a board game or just lounge around and watch Kerala from the sundeck.
Dera Dune Retreat is one of the few luxury resorts of its kind.
Located between Jodhpur and Jaisalmer, two of Rajasthan's most welcoming cities, the resort allows you an amazing experience in the deserts of Rajasthan.
The retreat has 18 beautiful cottages, each decorated in the most authentic Rajasthani taste, giving you sweeping views of the desert and guess what, a swimming pool in the middle of the resort to beat the heat!
Your cruise in this place will be a fun camel ride taking you through the dunes. The resort even packs you a picnic meal if requested.
A must visit excursion is to the town of Phalodi, about 30 km from Dera Dune. The town is known for its typical Rajasthani juttis (a type of footwear). Available in different colours with hundreds of patterns, you will be spoiled for choice.
You also have the opportunity to meet with the locals and visit their homes or shops to understand their lifestyle better.
Evenings at the resort is another highlight, as the sun goes down everyone gathers around for a bonfire where local performing artists are called to give you a flavour of the Rajasthani music and dance culture.
If there exists a perfect ideal getaway, Dera Dune has to be it!
Ananda Spa in the Himalayas is India' holistic health and wellness haven for mind, body and soul. If you're looking for a surreal and spiritual travel experience, then Ananda is definitely the best choice.
Located in the hills of the Himalayas, Ananda is located in Northern India between Rishikesh and Haridwar. India, specifically Northern India, is known to be charged with cosmic energy and is considered the birthplace for yoga.

Request for special art performances or just spend the evening reading a book from the well-stocked library, you can plan your day the way you want.
From paddy fields to aquatic wildlife and, from cultural immersion to luxury, these river cruises are hands down the best way to enjoy Kerala.
At Ananda, they focus on traditional yoga that stems from Hatha yoga, which, according to legend, was founded by the Hindu deity Shiva. For advanced practitioners, this return to classical purity can be refreshing, and for beginners, it is the perfect place to learn.

While the area clearly is a mecca for yoga fanatics, you don't have to be one to appreciate the beauty and rejuvenating spirit of the place.
Luxury on Wheels, Maharaja Express :
All set to feel like a true Maharaja?
Maharaja Express is a train experience through Northern and Central India. As soon as you step on board, you have your own butler ready to take your orders to make this the most kingly experience of your life!
Take in the passing views at the Safari Bar where your drink of choice is served in hand cut crystal glasses. Or perhaps, you'd rather prefer any of the two restaurants where world cuisine and Indian delicacies are served on fancy gold and silver plated cutlery.
Although reminiscent of bygone eras, this 5-star hotel on wheels doesn't compromise on amenities like WiFi, plasma TVs and more.
From Taj Mahal in Agra to the royalties of Rajasthan and all the way to central India, you get to witness it all.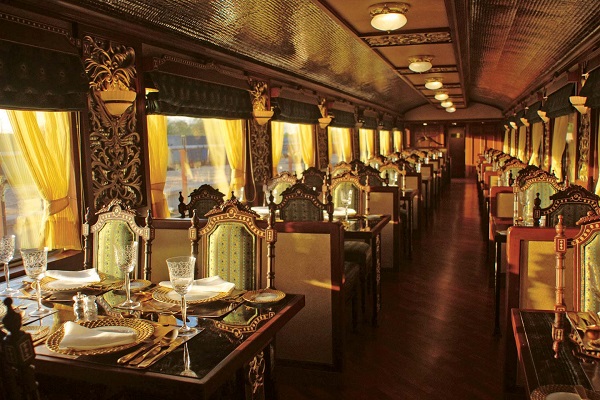 Off-board experiences include trips to the fortresses of Jaipur, the Taj Mahal of course and so much more. Guided tours to Ranthambore national park to experience untamed wildlife and exploring various cities getting a glimpse of different cultures and crafts.
Special art performances are also arranged at particular destinations, all you gotta do is board the train in time!

Obviously, the culture and traditions of India don't restrict to just these listed above but these offbeat and luxurious experiences sure can offer a wonderful and in-depth insight into India.
India is a country where every religion finds a home, where every person finds warmth and definitely, every traveller finds a getaway.
So, take your pick and let's go!