MV Mahabaahu
On Board Food & Dining
Onboard the MV Mahabaahu we promise our guests laid-back luxury even when it comes to dining.
Dining Experience
The Dining Experience: Our dining hall is unique in that some of our most fantastic onboard sightings have happened while our guests have been enjoying their meals looking out of our big glass windows! The picture we're painting is an envious albeit entirely real one – guests tucking into delicious food while watching the constantly evolving river scenery decked with exotic wildlife.
You are in India so we will give you a very Indian Experience but with consideration of your taste buds. Non-spicy and not hot meals accompanied by hot and spicy condiments like spicy pickles and hot and tempered down local chutneys on the side for spice craving taste buds.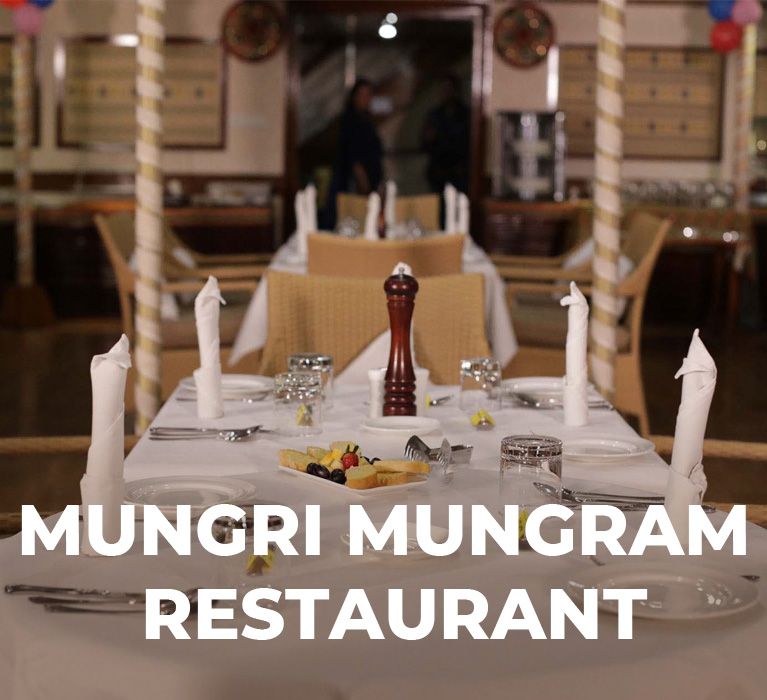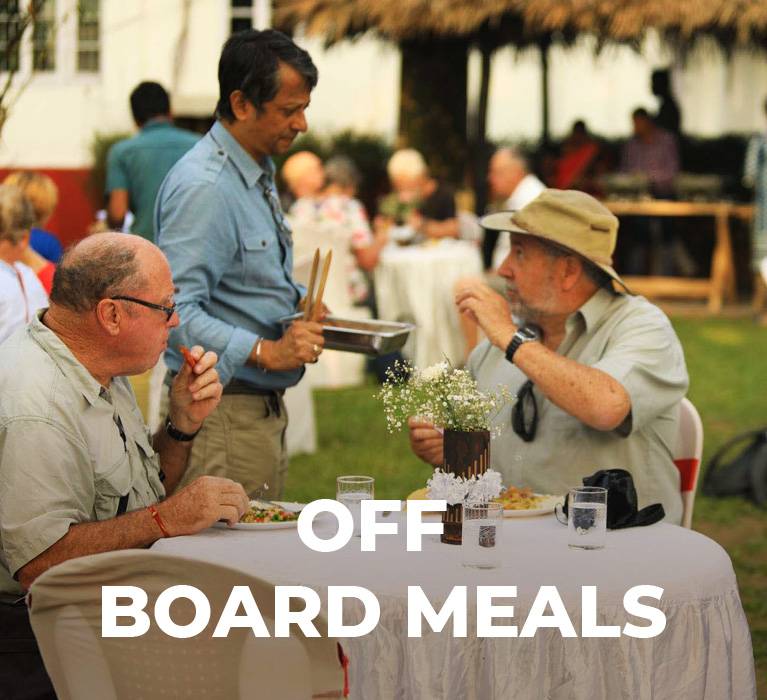 Breakfast and Lunches
Breakfast and Lunches are a buffet spread of continental oriental and Indian mix. Muesli, cornflakes, oats and wheat porridge are available each day. Juice, tea, coffee and cappuccinos are on the menu too. At breakfast we have two live stations; one for your favoured egg-style and the other for fresh date-packed pancakes, uttapam, besan-chilla and dosa (a variety of Indian style savoury crepes and pancakes). Stuffed Parathas are a highlight that all our guests enjoy.
One of our unique highlights is our onboard bakery. Fresh multigrain, brown and white bread, muffins, doughnuts, croissants, lavaash and more are baked fresh every morning.
Lunch brings with it mouth-watering freshly made vegetarian and non-vegetarian Indian non-spicy but flavoursome known and some unknown dishes. The display is laced with spicy chutneys and pickles that can be sweet, sour and hot for various tastes on board. The afternoon also caters for a spread of soup, cheese, and a variety of bread and salads.
Dinner
Evenings call for sit-down dinners ranging from 5 to 6 courses. We offer guests a choice between continental, oriental and Indian Cuisine. All Indian dishes served are from different states of India. The Chefs on MV Mahabaahu take pride in preparing dishes from the scratch. We prepare our own bakes, sweets, desserts, ice-creams and yoghurt.
The welcome and farewell dinners are always special – we sit down to a multi-course meal with a difference. Often, we'll have a theme night planned along with a few more surprises in store.
To find out what those secret surprises are you'll just have to join us onboard!
Dietary Restrictions
Allergies & Special Requirements: Needless to say, onboard the MV Mahabaahu all of our guest's dietary requirements are well taken care of. Our chefs are trained and well-equipped to deal with all intolerances and allergies.
Note: Please do let us know in advance of any dietary restrictions so we can ensure a hassle-free holiday for you.
our
Awards
Below are some of the awards won by us.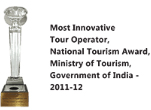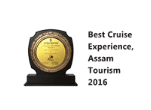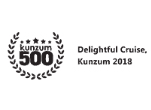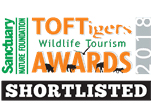 Copyright 2019 adventurerivercruises.com All Right Reserved.