2 Nights North to South Cruise
Kerala River Cruise
Thottappalli-Alleppey
The river cruise takes you through wide lakes, flowing rivers, narrow canals and tranquil lakes with many villages on its banks that are only connected by water. Life is all on these waterways with people commuting in wooden dugout canoes where school children, traders and fishermen all mingle together to make the voyage through the bustling waters both colourful and very exciting.
Visit temples, market places. Experience how traditional wooden boats are built by stitching the planks of wood together with coir rope. A really delightful tropical river cruise on warm waters with a lot of sun bathing and lazing as you sail towering twenty feet above the paddy fields in canals held together by dykes or, along the Arabian Sea where the setting sun splashes the endless waters with a bright orange glow. If you would like, cycles can be hired for cycling in the tropical countryside's back-roads.
Fare Starting 660

$

per cabin
2 NIGHTS SOUTH to NORTH CRUISE
Detail Itinerary
Day 1: Arrive in Thottappalli by Noon
The team on-board welcomes you to the boat and helps you with smooth check-in. Gather-together in the lounge for a safety briefing about the boat and about the cruise. We set sail and unwind, as the boat leaves behind the bustling township and cruises gently to the villages interspersed along the tranquil emerald green waterways of rivers, lakes, lagoons and coastal estuaries, expanses of paddy fields, swaying tall coconut trees, banana plantations and variety of tropical fruit-bearing trees. Enjoy the traditional lunch and relax on-board. Cruise till evening through the interiors of Kuttanad, exploring the settlements at the middle of expanses of paddy fields. Take a leisurely walk along the beach. Dinner will be served along with the main group which will return after their day's excursion.
Meal Plan: (L, D)
Day 2: Cruise: Karumadi – Kanjippadom
Enjoy a walk in the village.
Half day excursion
After breakfast take a drive (30minutes) to visit an ancient sacred grove where serpents are worshipped. This is the only temple in Kerala having female priests. You can take a walk inside and see the rituals going on.
We proceed to Mannar village (45minutes) to meet the metal smiths engaged in making traditional lamps, ornate locks, bells and various types of vessels being used in temples. (The workplace remains closed on Sundays and religious holidays). You may also choose to visit one of the 7 and half churches built by St. Thomas, the apostle of Jesus Christ, who arrived in Kerala during AD50. (Washroom facility is available only at this place). Return to the boat.
The spillway at the river mouth at Thottappalli prevents the saline water from flooding the low-lying paddy fields. We get to know about indigenous practices of paddy cultivation on reclaimed land at lower altitude that the Sea.
Honouring your cruise with us, we plant a coconut sapling for the village. Coconut tree is considered as the 'Kalpavriksha 'or Divine tree of Kerala. All parts of coconut tree are useful in one way or the other: the water inside is a healthy drink; the fresh kernel and the oil extract from dried kernel are inevitable components of every cuisine; fiber from the coconut husk is used to make coir, mats and geotextile; the palm fronds are used for thatching roof; the wood suitable for making furniture and all the dried parts of coconut make good firewood. Last but not the least, the toddy – the local alcoholic beverage that boost for the laborers after toiling in the fields.
After a leisurely sail we arrive in a quaint village – Karumadi village. We take a walk around a small shrine preserving the ruin of a sculpture of Buddha that belongs to the early centuries of current era. Along the way we interact with toddy tappers, who collect the sap of the stem of blossoming coconut flower and make the alcoholic beverage–Toddy. We learn from him the process of making toddy and may take a sip from his pot.
We visit the village Kanjippadom for a leisurely walk. We meet the carpenters at the boat building yard and talk about the traditional method of building wooden boats (Kettuvallom), joining wooden planks using coir, cotton and natural resin. Tonight, we celebrate our sojourn over farewell dinner on board RV Vaikundam.
Meal Plan: (B, L, D)
Day 3: Kanjippadom – Punnamada & Disembark at Alleppey
After breakfast we cruise to Punnamada lake. This lake is the venue of the annual spectacular race of Snake boats of different villages of Alleppey and its neighbouring places on 2nd Saturday of the month of August. We disembark by 9.30 AM. After taking a walk through the market place of Alleppey, depart for onward journey.
Meal Plan: (B)
RV Vaikundam Cruise
Package Price For 2 Nights
September 2019 TO May 2020
Luxury Cabin
Uncover the secrets of magical Kerala, an adventures land with immense ancient and must-watch attractions.
140sqft
1 Cabins
Bathroom
Windows on 3 Sides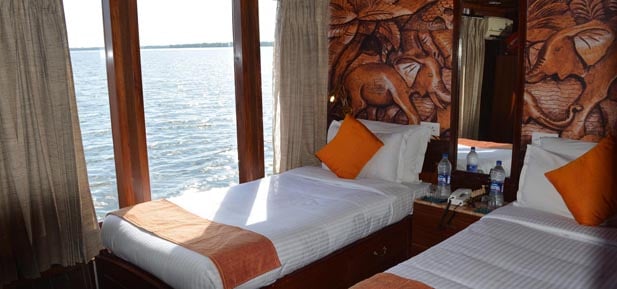 Deluxe Cabin
Uncover the secrets of magical Kerala, an adventures land with immense ancient and must-watch attractions.
130sqft
8 Cabins
Bathroom
Windows on 1 Side
RV Vaikundam Cruise
Package Price For 2 Nights
September 2020 TO May 2021
Inclusion
Entrances: Entrance Fees
Naturalist/Destination Manager: English speaking
Internet: Available with Wifi Dongle
Land Transport: By Air-conditioned Vehicles and Local Tuk-tuk
Meals: Breakfast Lunch and Dinner
Exclusion
Airfares: International or Domestic Airfares
Taxes: 5% Government Tax. Or any other tax levied in the future.
Evacuation Charges: For medical emergencies or any other reasons
Personal Expense: Laundry, calls, extra liquor, camera fee, medical, spa etc
Insurance: Any travel insurance or personal insurance.
Force Majeure
Assisted Transfers
Available Departure Dates
| Sno. | Boarding Date | De-boarding Date | Cruise Direction | Status |
| --- | --- | --- | --- | --- |
| 1 | 10-Mar-2020 | 12-Mar-2020 | North – South | Sold Out |
| 2 | 13-Mar-2020 | 15-Mar-2020 | South-North | Available |
| 3 | 01-Apr-2020 | 03-Apr-2020 | North-South | Sold Out |
| 4 | 03-Apr-2020 | 05-Apr-2020 | South-North | Sold Out |
| 5 | 10-Apr-2020 | 15-Apr-2020 | North-South | Available |
Updated: 19 February 2020
REQUEST FOR
Reservation & Quote
OTHER INFORMATION
All bookings are subject to availability and terms and condition.
Cruise Check-In 1400 hours, Check-out time 1200 NOON
Prices are subject to change with an increase in the cost.
In a case on any currency fluctuations or amendment in local Government taxes, or any fuel hike, we intimate you of the supplement price.
our
Awards
Below are some of the awards won by us.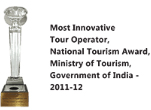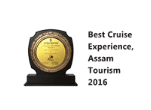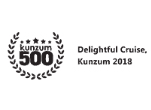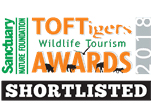 Copyright 2019 adventurerivercruises.com All Right Reserved.