Cruise Booking Policy
Information contained in the Company's brochure, website or advertising materials is not an offer or a contract. The transportation of guests and baggage on the river cruise vessel is provided solely by the Company and is governed by the terms and conditions printed on the Guest Booking Contract. For complete information on terms and conditions, itinerary, liability of the Company (Owners of the Ship), and all sections mentioned below, refer to the Guest Booking Contract below.
Payment & Deposit Policy
A deposit for cruise fare of 25% per person is required to secure a confirmed booking, this deposit is NON REFUNDABLE.
90 DAYS PRIOR TO DATE OF SAILING: 75% Per Person
For the Christmas and New Year holiday, the full balance must be paid 120 days prior.
All reservations are subject to cancellation if payments are not received by the due date. Upon full payment by the participant(s) of the amount specified as the Full Fare (Invoice to be referred), the Company agrees to arrange for the provision of the services as described herein and as modified by any supplementary marketing materials.
Upon receipt of your deposit or full payment or upon the issuance of the Guest Booking Contract directly or by a  Booking agent or upon receipt of a confirmation letter or final invoice from us, both the Guest and the Carrier will be fully bound by all of the terms and conditions of the  Guest Booking  Contract.
Reservations
To make a reservation, contact your local booking agency, call us or book directly on the booking system.
Modes of Payment
Bank wire transfer which is subject to bank wire fee.
PayPal system with additional 5% Transaction fee.
Through American Express, Master and Visa credit card with an additional 3% Transaction fee.
Cancellation
All cancellations must be in writing.
The following cancellation terms will be applicable for all written cancellations received prior to departure up to the scheduled time of departure.
The 25% deposit for booking is non-refundable.
Post that balance 75% to be paid before 90 days is also non-refundable within the 90 days.
Revision or Changes
Once a cruise has been booked all changes are subject to the cancellation policy. The following situations are considered as Revisions/Changes:
Changes to departure date
Substitutions of itinerary
Substitution of another person for original booked guest(s)
Changing to a promotional fare
Documents
Documents will be issued approximately 3 weeks prior to departure.
Transfers
Only round trip airport-to-river cruise transfers are included (within city limit).
Travel Documents and Visas
All guests must have passports valid for six months following disembarkation and necessary visas when boarding. Guests are advised to check with their Booking agent to determine which documents they must obtain.
Due to airline security measures, your passport name must match your airline ticket name or you may be denied boarding. Adventure Resorts and Cruises accepts no responsibility for obtaining required visas or for advising guests of visa or other immigration requirements.
Children and Minors
We accept children of 6 years and above onboard sharing a cabin with parents or guardians. They will be the sole responsibility of the parents/ guardians and must never be left unattended. For Children of 15 years and above, a separate cabin will need to be booked.
Differently-able Guests
We ask that you advise us at the time of booking of any disability or special needs you may have while on your itinerary. Most transportation services, including the motor coaches, are not equipped with elevators or wheelchair ramps. Adventure Resorts & Cruises India will make reasonable attempts to accommodate the special needs of travelers with disabilities, but we are not responsible in the event we are unable to do so, or there is a denial of service by vessel operators, air carriers, hotels, restaurants or other independent suppliers.
We regret that we cannot provide individual assistance to a guest for walking, dining, getting on and off vessels, motor coaches and other vehicles, or other personal needs. A qualified and physically able companion must accompany travelers who need such assistance and must assume full responsibility for their well being. The guest assumes the full risk of use and of any prohibitions imposed by vendors.
Tips
It is customary to give cruise gratuities, subject to your satisfaction of services rendered. Gratuities on board and on land are not included in your Full Fare.
The Company
We acts solely as a Sales Agent for the all direct guests or Booking Agents of the vessels described in the Company's advertising.
Responsibility
The Company accepts no liability or responsibility, whether occasioned by railroad, motor coach, private car, boat, aircraft or any other conveyance, for any injury, damages, loss, accident, delay or irregularity which may be occasioned either by reason or defect, through the acts or defaults of any company or person, or in carrying out the arrangements of the cruise, as a result of any cause beyond the control of the Company.
Guests specifically releases the Company from any and all claims for loss or damage to baggage or property or from personal injuries or death, or from loss or delay, arising out of the acts, omissions or negligence of any independent contractors, such as air carriers, hotels, shore excursion operators, restaurateurs, transportation providers, medical personnel or other providers of services or facilities.
All arrangements made for guests with independent contractors, including medical services, are made solely for convenience to participants and are done at the participant's own risk. Medical personnel are independent contractors.
The Company specifically disclaims all liability for damages for emotional distress, mental suffering or psychological injury of any kind.
Tickets, vouchers and any other travel documents are subject to all terms and conditions of the respective suppliers (some of which may limit supplier's liability).
The Company and the owners and operators of the vessels identified herein shall be entitled to any and all liability limitations, immunities and rights applicable to them or any of them under the Strasbourg Convention on the Limitation of Liability of Owners of Inland Navigation Vessels (CLNI), with protocols and amendments, together with the further provisions of the International Convention of Limitation of Liability for Maritime Claims, 1976, with revisions and amendments (hereinafter collectively referred to as the "Convention"), if and as applicable, and by those other and further limitations of liability set forth in the statutory and general maritime law of the United States, (including Title 46 U.S. Code Section 181-186, 188), as well as any other applicable nation's laws limiting liability. The Company and the owners and operators of the vessels identified herein shall be entitled to claim the benefit of whichever law, regulation, treaty or doctrine provides the greatest legal protections to the Company and the owners and operators of the vessels identified herein.
Refusal of Passage
The Company shall not be required to refund any amount paid by any guest who must leave the cruise prematurely for any reason, nor shall the Company or the owners of the vessel identified herein be responsible for the lodging, meals, return transportation or other expenses incurred by such guest.  However, facilitation of all services to the said effect would be made on request and paid for by the guest.
Elephant Safaris
In care of M.V. Mahabaahu, the elephant safaris are subject to availability.
Advanced, Cancelled or Delayed Sailing
The Company reserves the right to withdraw and/or cancel a cruise or to make changes in the itinerary and hotel accommodations whenever, in its sole judgment, or in the judgment of the vessel owner, conditions warrant it. In the event of charters of the vessel, truces, lockouts, riots or stoppage of labor from whatever cause or for any other reason whatsoever, the owner of the vessel identified herein may, at any time, cancel, advance or postpone any scheduled cruise and may, but is not obliged to, substitute another vessel or itinerary and shall not be liable for any loss whatsoever to guests by reason of any such cancellation, advancement or postponement.
Acts of Gods, Strike or Others Conditions Beyond Control
Neither the Company nor the owners of the vessels identified herein shall be liable for delay or inability to perform any condition described herein or any part thereof caused by or arising out of strikes, lockout or labor difficulties or shortages whether or not the carrier is party thereto, or explosion, fire, collision, standing or foundering of the vessel or breakdown or failure of or damage to the vessel or its hull or machinery or fittings howsoever and whosoever any or the same may arise or be caused, or civil commotion, riot, insurrection, war, government restraint, requisitioning of the vessel, political disturbance, acts or threats of terrorism, inability to secure or failure of supplies including fuel, Acts of God, or other circumstances beyond their control.
Services provided by Airlines
The Company reserves the right to choose the air carrier, routing and city airport from each gateway city.  The Company, may utilize contracted block space as outlined by each specific carrier, therefore all flights and routing may not be available any additional costs including penalties for cancellations/ re-booking will be made at the guest's expense. All airline tickets issued by the Company are refundable only to the Company, therefore, all tickets should be returned to: The Company: Attention Air Refunds.
The Company will determine the amount of any refund due. If the air ticket is lost, the guest is responsible for the cost of its replacement.
The Company has no responsibility for any change in travel plans caused by airline delays or for any act, omission or event.
Travel Protection
Travel Protection is not included in the listed fares. It is the individual responsibility of each guest.
our
Awards
Below are some of the awards won by us.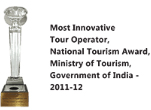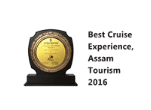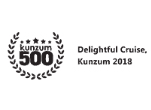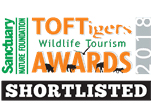 Copyright 2019 adventurerivercruises.com All Right Reserved.