Have you met the swimming elephants of Assam?
Assam, the state of nature and culture, is popularly known for its wildlife. From the one horned rhino to the Golden Langurs, the state is full of diversity. But what has caught our guests' eyes recently is something spectacular-the sight of swimming and frolicking elephants, from the MV Mahabaahu cruise ship itself. As a younger calf played with its mother, the other elephants relaxed and sprayed water over themselves, each one possessed in harmonious togetherness.
Tiger sightings from the ship. Wouldn't you like that? 
On the boat safari using the tenders along the banks of the Brahmaputra River at the confluence with the Dhansari River,a thirsty Tiger was drinking water along the river. On sighting the tenders where a group of busy and excited tourists with beating hearts were clicking pictures of this majestic king of the jungle.
The tiger first strolled along the banks posing for the camera and then, took a mighty twenty feet high leap to the high grounds, before disappearing into the bush.
Spot river dolphins from your balconies or from the deck!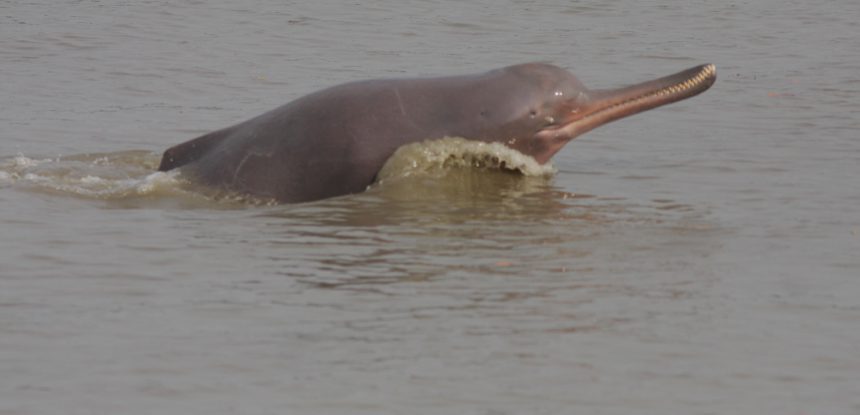 It's not uncommon for our guests to spot frolicking river dolphins while sipping their drink of choice onboard the MV Mahabaahu. Recently, the city of Guwahati in Assam declared these intelligent creatures as their official city mascot!
Apart from the experiences listed above, one can also spot wild buffaloes and a whole number of exotic birdlife from the vicinity of the ship itself.
All of this before we even get to the Kaziranga National Park known as the Serengeti of India. Can you imagine the treasures that lie there? Well, we'll keep that for another blog post!