Local Legends and Etymology of Kaziranga
Legend has it that a girl named Rawnga eloped with a youth named Kazi; both ran into the forest never to be seen again and so the forest was named Kaziranga. It is also believed that the area in the local Karbi language was called Kajir-a-rong, which means; the village of Kajir (Kajiror gaon) and kajir is a common name for girls. It is alleged that the area was ruled by a Karbi woman Kajir. Fragments of monoliths in the area bear testimony to this.
Etymology suggests that the word 'Kazi' in the Karbi Language means 'goat' and 'rangai' means 'red', so the land of red goat is rightly Kaziranga as the deer are in abundance.
The Romance of Baroness Mary Curzon of Kedleston
Lord Curzon's wife, in 1904, visited Assam to see the Rhinoceros but was appalled at their dwindling population and she persuaded Lord Curzon to order a safe-haven for the local flora and fauna. In 1905 on the 1st of June Kaziranga project came to life as the proposed Reserve Forest with an area of 232 sq km or 90 sq miles.
Kaziranga, a tale of success
In 1908 the Park was designated a Reserve Forest with an additional 152 sq kms or 59sq miles. From 1916 to 1938 Kaziranga remained a Game Sanctuary and was renamed in 1950 as Kaziranga Wildlife Sanctuary to rid the connotation of hunting. On 11th February, 1974 the Central Government declared the 430 sq kms (166 sq miles) as a National Park. In 1985; this, one of the biggest landscapes of the North-East was declared a World Heritage Site by UNESCO for the uniqueness of the region's diversity.
The present Rhinoceros numbers in the park stand at 2400 and a healthy deer population speaks of successful growth. The big birds like a park.
Role of Brahmaputra in shaping Kaziranga
A part of Brahmaputra's marshlands; Kaziranga Forest is a perfect home to the big 5 and 30 other mammals are part of this grassland. It is a bird enthusiast's dream Park with more than 435 species of birds. The population of tigers in Kaziranga stands at more than 126; one of the highest among other National Parks in India. This land of scenic beauty pays special attention towards conservation of this forest. These safaris are an insight into how well the other half of life on planet survives and how ample water and lush grass habitat keeps them healthy and thriving
The two off-springs of Brahmaputra; fertile alluvium and the snow melt play hide and seek giving rise to sandbars and raised flat lands called 'chapories' along with flood-formed lakes or 'beels'. Kaziranga is a product of the river Brahmaputra and forms the largest tracts of protected land in the sub-Himalayan belt and is a biodiversity hot-spot of highly diverse flora and fauna.
The Arena of the Big 5 for tourism
Located 228 Kms (4 hours from Guwahati and 96 Kms (2 hours) from Jorhat, the Park occupies geographically a very central spot in Assam and is part of both Golaghat and Nagaon Districts.. The Park Authorities have divided the Park into four ranges and are continuing to create others for ease of tourism.
The Rhino Land Park at Ghorakati village is the starting point of the Burapahar Range for Jeep Safari (17 Km trail—2 hours). It is a hilly terrain of scenic beauty. Burapahar offers designated trekking track for an enriching experience through dense forest for spotting Hoolock Gibbons, Capped Langur and a large number of avifauna species.
The Highway takes us to the Western Range called Bagori; here both Elephant and Jeep Safaris (26 km trail—3 hours) begin from For the Central Range called Kohora a spot called Dunga.
For the Central Range called Kohora the starting point for Safaris is Mihimukh. The Jeep trail is 28 km long and takes 3 hours. The Eastern Range of Agaratoli at present offers only Jeep Safaris (17 km trail- 2 hours) and is accessible by road. The tourists traversing the Brahmaputra for soft adventure on Luxury River Cruises like MV Mahabaahu can access the water boundary of this range by boat.
Slots for Elephant and Jeep Safaris
Elephant Safaris: 2 morning slots only both at Kohora and Bagori 05:30 hours to 06:30 hours and 06:30 hours to 07:30 hours
Jeep Safaris at all 4 Ranges
Morning Safaris: From 07:30 hours to 1130 hours and
Afternoon Safaris: From 1330 hours to 1630 hours
Best time to experience Assam's Riverscapes:
The touring season starts with the arrival of migratory birds in October to enjoy the swamps and ends with the flying away of these winged creatures by the end of April when the swamps start flooding.
How can life along the river be accessed by a world traveller?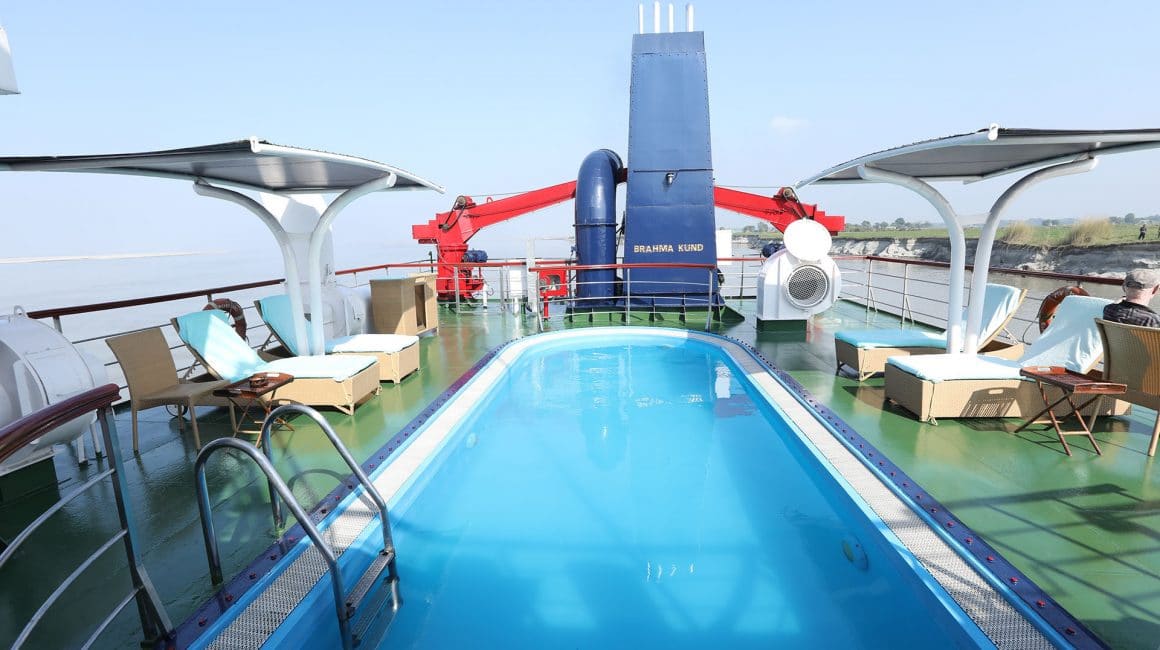 These riverscapes can be enjoyed best when the space of comfort transports you to the destination and offers unparalleled soft adventure and hands on interaction with the simplistic lifestyles of various tribes that have lived off the river.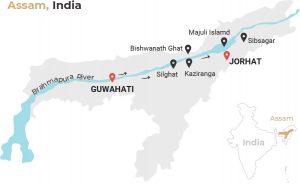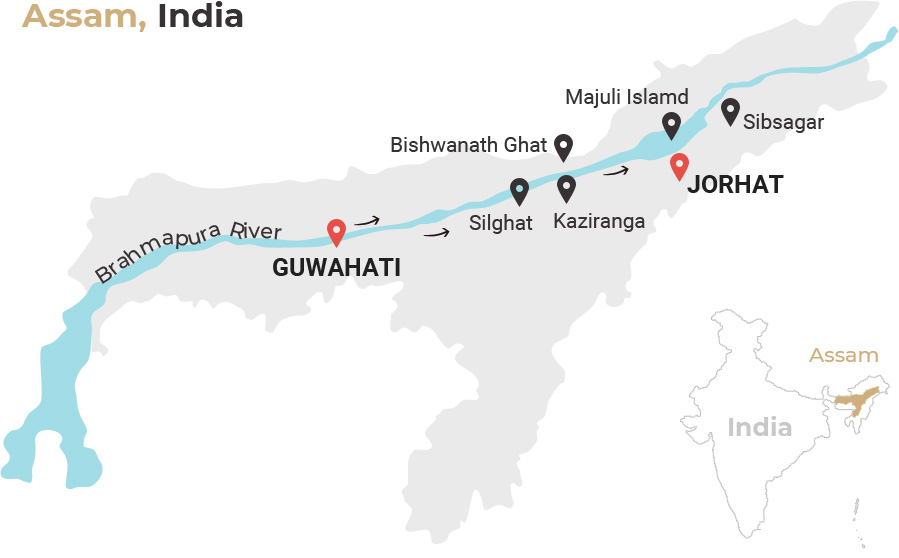 A 7 night Eight-Day Cruise on the Brahmaputra River on board, luxury vessel MV Mahabaahu offers a boutique experience. The river offers both the world's smallest inhabited riverine island called the Peacock Island at one end of the cruise and at the other end the largest inhabited island, the Majuli Island. The 180 kilometre stretch from Guwahati to Silghat sees dotted small and large villages occupied by migrants from Bangladesh where women can be seen in sarees and men where checkered lungis and are of Muslim origin. The next stretch of 200 kilometres from Silghat to Neamati is dotted with ethnic Mishing tribals who are of Buddhist or of Vaishnav faith. Paddy, corn, sugarcane, peanuts, and vegetable farming along with weaving, pottery, boat making and fishing keeps this population busy on their seasonal sojourn on the mighty Brahmaputra.
How does one experience the unique features of Assam?
The river unites the three fascinating cultures of the Tibetan Civilization in the North, the sleepy villages of India in Arunachal Pradesh and Assam Valley and the bustling villages in the Delta of Bangladesh. There's more to this river in India's northeast than just its annual floods. The river is revered equally by the religious canvas of indigenous populace of Hindus, Jains, Sikhs, Buddhists, Muslims and Bons.
MV Mahabaahu offers an expedition form of cruising on the mighty Brahmaputra that refuses to be tamed. MV Mahabaahu is a 23 cabin (2 suites, 2 Luxury Cabins and 7 Deluxe Cabins with private balconies and 12 Superior cabins with large picture windows.) motor vessel offering a seven-night eight-day rendezvous, Sunday to Sunday from October to April.
The 7 night Upstream itinerary from starts at Guwahati and ends in Jorhat in the State of Assam, while the 7 night Downstream itinerary starts from Jorhat to Guwahati in the State of Assam. Airport connectivity is available at Guwahati and Jorhat. All inclusive price starts from USD 350* per person per night for base category cabins.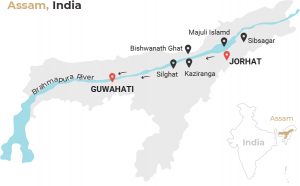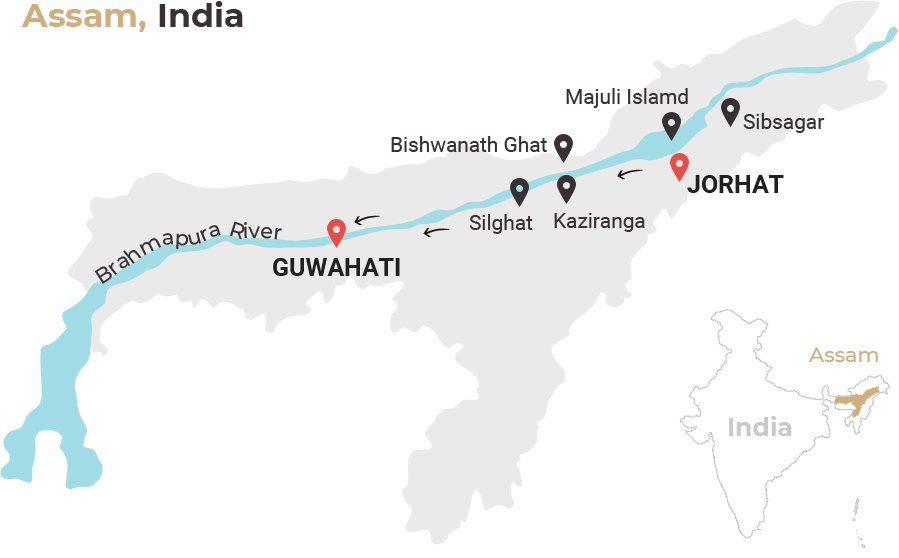 The Itinerary is subject to weather and river conditions or if we are faced with any political challenges. The tourism season is from October to April: In the coldest month of January, the temperatures range from 60-degree Fahrenheit to 70-degree Fahrenheit or 15-degree Celsius to 21-degree Celsius. Warm layering is required. Light rain can be expected so a parasol/mackintosh would be useful.
Binoculars and cameras will enhance the experience. Casual light comfortable clothes, comfortable walking shoes for all excursions, sun shades and hats are recommended. We organise Sit-down dinners at the end of the day. Breakfast and Lunch are buffet setting. Drinking Water systems are fitted in all cabins along with flasks for excursions. Tea/Coffee/cookies and hot water kettle facilities are available in each cabin. All items in the Minibar are chargeable. Laundry/Sauna/Steam/Jacuzzi/Ayurvedic therapies/Rejuvenation Massages/ Hair Spa facilities too are available on board.
Yog practice on pristine deserted sandy islands and to stroll the soft silver carpet of sand and continue into numinous bonfire evening under the distant suns that twinkle in our night sky of the northern hemisphere. Barbequed snacks in ethnic tribal style, a local brew to wash down, some games to indulge in and a traditional reverence to the son of Brahma for a safe passage completes the enthralling journey
Cruise with Confidence: We've added fresh procedures to upraise our hygiene ideals for every facet of onboard practice; air filtration systems, personal steel flasks, cabin-based water filtration units and added hand sanitizer stations at all exits and entries. Immunity-enhancing herbal teas, Yoga and nature-walks, cruising in the lap of wilderness and enjoying beverages on silver sands of deserted islands away from civilization are conducive in times of pandemic or any other infection. Ayurvedic treatments, Steam Sauna, and Jacuzzi for rejuvenation and a Paramedic on board are an added advantage.
*Terms and conditions apply.