The Legend of Gupta Kashi of Assam
It is believed that in Dwapar Yug Asura King Bana tried to build a second Kashi by creating sahasra sivalingams but was deceived by the Gods who stole one and placed it elsewhere. But Lord Shiva was pleased by Banasura's effort and agreed to stay here in Gupt (hidden) form and thus the name Gupta Kashi. There are till date several temples near the ghat; Shiva Dol and Bishwanath Shiv Temple are some of the famous ones.
The Legend of Dyutkreera (Dice Play)
It is believed that when Pandavs were in agyatvaas (exile where no one should recognise them) they stayed on the island of Umatomuni. Here one can see the petroglyphs or rock inscriptions on Monolithic Rock of Shukreshwar. One can see the dice board pattern on the rock.The markings of chakravyuh (a battle formation) and dyutkriya suggest that perhaps the Pandavas did spend some time here.
This is the pattern of chakravyuh—a maze-like pattern of arranging soldiers in the battle as explained by Arjun to his wife Rukmani when she was carrying their son Abhimanyu. She fell asleep when Arjun was explaining the way out. It is believed that Abhimanyu heard this when in the womb and later in Mahabharata battle, he was able to get into Kaurava's chakravyu and held the fort, but was unable to find a way out and fell.
Gupta Kashi of Assam or Bishwanath Ghat
Pristine silver sands, drift wood, logs, sleek and narrow country boats with the boatmen carefully perched on one end and the sound of oars, and simple village folk performing regular everyday chores of bathing, washing clothes and cleaning utensils at the rock-strewn river edge suggest a slower and more innocent life order. Watching from this silent edge of sea-like Brahmaputra, it is hard to imagine Bishwanath Ghat as an ancient bustling port on the north bank of Brahmaputra loading tea and to be sent to Calcutta.
The stunning beauty of the rocky outcrop on the eastern side; the cove beyond which the Bridhaganga meets Brahmaputra keeps the tiny fishing boats out of strong winds. The lamp post and the strewn remains of an ancient temple; all lie under water from April to October and show up when the river recedes.
The south bank of the Brahmaputra, directly opposite Bishwanath Ghat is the thick and thriving core zone of Kaziranga. So, leisure boat rides for some fantastic views of the UNESCO world heritage site are guaranteed.
Living Culture of Bishwanath Ghat Village
This little village is a site for enterprise. Every person works honestly at his/her own pace and have a glow on their face. A Boatman sits atop his overturned boat in the wide expanse of the mighty Brahmaputra and chips away at the bottom of the boat with a chisel and hammer and clips the edges with fresh wood. A fisherman sits atop a Chinese net on the bank waiting for his catch. Another throws a net skilfully for the day's booty. A shop-seller waits away for a customer, women carrying babies or tending the garden and girls hiding behind rocks to take a dip are all typical sites of life on the river Brahmaputra.
The Shiva Dol Temple and a Make-shift Bazaar of Woven Treasure
The Shiva Dol is a symbol of simple faith and Ahom architecture. The village folk set up a temporary bazaar for their woven treasure and proudly exhibit their weaves to the tourist who finds a way to this hidden landscape. The tourist enjoys a hand at bargaining and looks happy going through this market of extravagant colours. Others continue the loom.
This is predominantly a weaving village with subsistence farming of vegetables, fruits, and fish. Tall cylindrical Beetle trees, curry leave trees, mint, pepper, pomello, figs, mango and guavas grow in abundance. The village supports a small market for essentials and everyone looks self-sufficient and busy. It is very refreshing to see people happily mud-plastering their courtyards, mending nets, chewing tobacco or betel nut, and chatting from one house to the other; very typical of an Indian village—a strong community bond.
Best time to experience Assam's Riverscapes:
The touring season starts with the arrival of migratory birds in October to enjoy the swamps and ends with the flying away of these winged creatures by the end of April when the swamps start flooding.
How can life along the river be accessed by a world traveller?
These riverscapes can be enjoyed best when the space of comfort transports you to the destination and offers unparalleled soft adventure and hands on interaction with the simplistic lifestyles of various tribes that have lived off the river.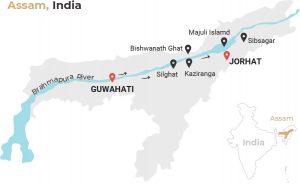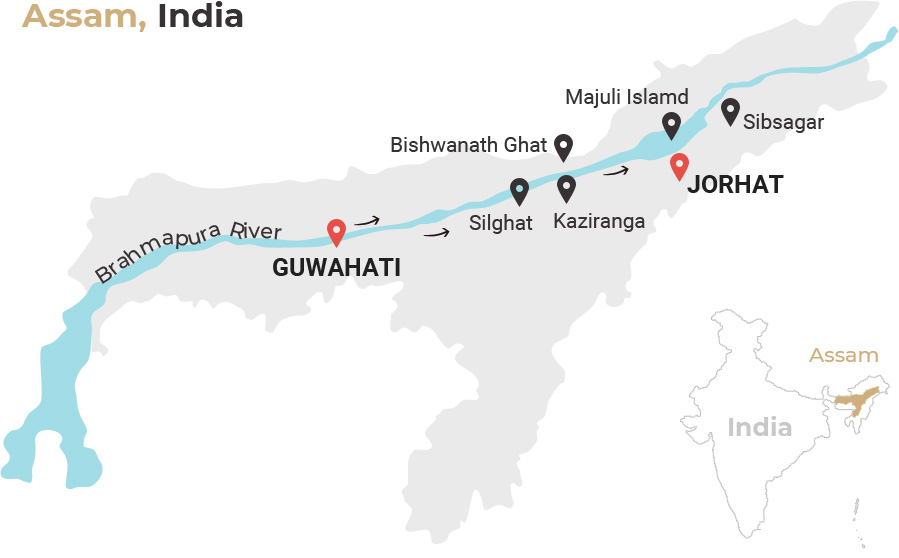 A 7 night Eight-Day Cruise on the Brahmaputra River on board, luxury vessel MV Mahabaahu offers a boutique experience. The river offers both the world's smallest inhabited riverine island called the Peacock Island at one end of the cruise and at the other end the largest inhabited island, the Majuli Island. The 180 kilometre stretch from Guwahati to Silghat sees dotted small and large villages occupied by migrants from Bangladesh where women can be seen in sarees and men where checkered lungis and are of Muslim origin. The next stretch of 200 kilometres from Silghat to Neamati is dotted with ethnic Mishing tribals who are of Buddhist or of Vaishnav faith. Paddy, corn, sugarcane, peanuts, and vegetable farming along with weaving, pottery, boat making and fishing keeps this population busy on their seasonal sojourn on the mighty Brahmaputra.
How does one experience the unique features of Assam?
The river unites the three fascinating cultures of the Tibetan Civilization in the North, the sleepy villages of India in Arunachal Pradesh and Assam Valley and the bustling villages in the Delta of Bangladesh. There's more to this river in India's northeast than just its annual floods. The river is revered equally by the religious canvas of indigenous populace of Hindus, Jains, Sikhs, Buddhists, Muslims and Bons.
MV Mahabaahu offers an expedition form of cruising on the mighty Brahmaputra that refuses to be tamed. MV Mahabaahu is a 23 cabin (2 suites, 2 Luxury Cabins and 7 Deluxe Cabins with private balconies and 12 Superior cabins with large picture windows.) motor vessel offering a seven-night eight-day rendezvous, Sunday to Sunday from October to April.
The 7 night Upstream itinerary from starts at Guwahati and ends in Jorhat in the State of Assam, while the 7 night Downstream itinerary starts from Jorhat to Guwahati in the State of Assam. Airport connectivity is available at Guwahati and Jorhat. All inclusive price starts from USD 350* per person per night for base category cabins.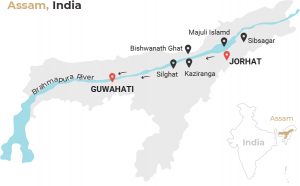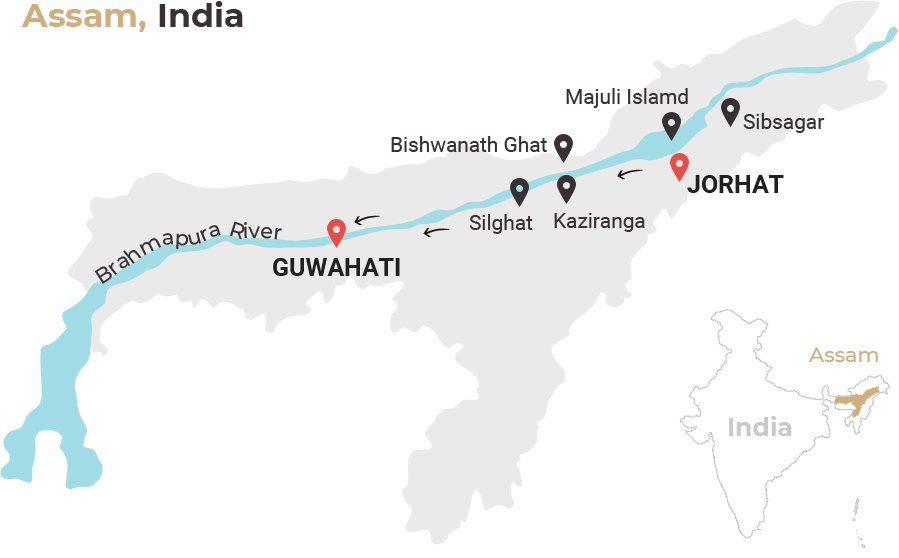 The Itinerary is subject to weather and river conditions or if we are faced with any political challenges. The tourism season is from October to April: In the coldest month of January, the temperatures range from 60-degree Fahrenheit to 70-degree Fahrenheit or 15-degree Celsius to 21-degree Celsius. Warm layering is required. Light rain can be expected so a parasol/mackintosh would be useful.
Binoculars and cameras will enhance the experience. Casual light comfortable clothes, comfortable walking shoes for all excursions, sun shades and hats are recommended. We organise Sit-down dinners at the end of the day. Breakfast and Lunch are buffet setting. Drinking Water systems are fitted in all cabins along with flasks for excursions. Tea/Coffee/cookies and hot water kettle facilities are available in each cabin. All items in the Minibar are chargeable. Laundry/Sauna/Steam/Jacuzzi/Ayurvedic therapies/Rejuvenation Massages/ Hair Spa facilities too are available on board.
Yog practice on pristine deserted sandy islands and to stroll the soft silver carpet of sand and continue into numinous bonfire evening under the distant suns that twinkle in our night sky of the northern hemisphere. Barbequed snacks in ethnic tribal style, a local brew to wash down, some games to indulge in and a traditional reverence to the son of Brahma for a safe passage completes the enthralling journey
Cruise with Confidence: We've added fresh procedures to upraise our hygiene ideals for every facet of onboard practice; air filtration systems, personal steel flasks, cabin-based water filtration units and added hand sanitizer stations at all exits and entries. Immunity-enhancing herbal teas, Yoga and nature-walks, cruising in the lap of wilderness and enjoying beverages on silver sands of deserted islands away from civilization are conducive in times of pandemic or any other infection. Ayurvedic treatments, Steam Sauna, and Jacuzzi for rejuvenation and a Paramedic on board are an added advantage.
*Terms and conditions apply.