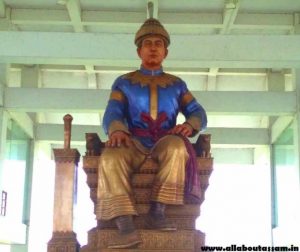 The Tai-Ahom people of Assam, established a kingdom in 1228 of their own in the south-eastern corner of the Brahmaputra valley when Sukaphaa entered. In the course of time that followed, they established their sway over the whole of the valley till their kingdom was occupied by the British in 1826.
They were thus the ruling people in the Brahmaputra valley for long six hundred years. In their own language they called their kingdom Mung-Dun-Chun-Kham, but was better known as Asam, Assam in English, and Aham in the Persian chronicles.
Siukapha befriended the local groups, the Barahi and the Marans, finally settled his capital at Charaideo and established the offices of the Dangarias- the Burgohain and Borgohain.
The Royal Emblem of Ahoms
One common image found in many monuments and archeological sites is Ngi Ngao Kham, a winged lion – dragon. Even the ancient copper plates and coins bearing these images reveal that the Tai-Ahom sovereigns once used Ngi Ngao Kham as their royal emblem. This mythical animal appears as a hybrid of a snake, a lion, a tortoise, a horse and a bird. Tai Ahom people believe that Ngi Ngao Kham also has close relationship with dragon of the Chinese.
The Brave Ahoms
Mighty empires require formidable armies to be sustained for a long period of time. The fact that Ahoms ruled for 600 years itself speaks of their mighty military administration. They never hesitated to opt for diplomacy and other such methods when war felt undesirable and burdensome. Marriage was the most common and strong means of maintaining diplomatic relations between Ahoms and neighbouring kingdoms.
They excelled in Guerilla warfare and were highly disciplined. Ahoms started using firearms around 1532, earlier they used only swords, spears and bow and arrows. The cavalry consisted of elephants and horses.
The Ahoms' love for valour is evident from their tribal names. The tribal names of the Ahom kings usually commenced with "Su" (meaning 'tiger') and ended with "pha" (meaning 'heaven'). Thus Sukapha means 'a tiger coming from heaven'; Sunenpha, 'a beautiful tiger from heaven"; and Sukhrungpha, "a furious tiger of heaven".
In the early 19th century, internal rebellion, and gradual disintegration of the paik system weakened the grip of Ahoms on their kingdom. Taking this opportunity, the Burmese invaded Assam. Ahoms were reduced to mere vassals under the Burmese rule from 1819 to 1824. The condition of Assam was deplorable under Burmese rule. Ahoms tried to oust the Burmese but all their efforts were in vain.
Organizational structure of the Ahoms
Almost the entire manpower of Assam was employed in the service of the Ahom military. Often, every able-bodied male was a member of the royal force and was called a paik. The Got consisting of 3 Paiks was the lowest fighting unit. An officer called Bora commanded 7 Gots. 5 such Boras with 100 paiks were under the command of another officer called Saikia.
Ten such Saikias with one thousand paiks were commanded by a Hazarika, whose immediate commander was Rajkhowa, the commander of three thousand paiks. Six thousand paiks were commanded by Phukan. Bar Phukan was the head of the army. The non-combatants in the Ahom army can be categorized into four types which were astrologers, medics, food suppliers and spies.
Geographically Assam had a large network of rivers formed by the mighty Brahmaputra and its tributaries. Navigation being fast in these waters helped in the quick mobilisation of forces. The Ahoms had an efficient Navy with the same organizational structure and discipline of the military.
The Ahoms fought numerous wars in their long rule with neighbouring kingdoms and tribes namely Kacharis, Chutiyas, Nagas and Jaintias. They also had clashes
The two wars which changed the course of Ahom history were: the Mughal wars and the Burmese invasions. While the former raised the Ahom banner high, the latter sealed the fate of Ahoms.
In 1667, the Ahom army under the leadership of Lachit Barphukan reclaimed Guwahati from Mughals. On receiving this news, Mughal emperor Aurangzeb despatched a strong army under the leadership of Raja Ram Singh of Amber to re-establish Mughal prestige in North East. Ram Singh with his mighty army reached the frontiers in 1669. A long and fierce naval battle with guerilla tactics ensued. The topography of natural hills, dense forests and rivers provided Ahom forces with natural defense potentials. After receiving a few setbacks, Ahoms emerged victorious. This battle is known as 'Battle of Saraighat'.
Monuments built by Ahoms in Shivasagar
The monuments built by the Ahoms in Shivasagar are a major attraction and are thronged by not just foreign nationals and country men from different states of India but the locals too visit in large numbers.
Rang Ghar in Shivasagar
Talatar Ghar in Shivasagar
Shiva Dol in Shivasagar
Joysagar Tank near Shiva Dol
How does one experience the unique features of Assam?
The river unites the three fascinating cultures of the Tibetan Civilization in the North, the sleepy villages of India in Arunachal Pradesh and Assam Valley and the bustling villages in the Delta of Bangladesh. There's more to this river in India's northeast than just its annual floods. The river is revered equally by the religious canvas of indigenous populace of Hindus, Jains, Sikhs, Buddhists, Muslims and Bons.
MV Mahabaahu offers an expedition form of cruising on the mighty Brahmaputra that refuses to be tamed. MV Mahabaahu is a 23 cabin (2 suites, 2 Luxury Cabins and 7 Deluxe Cabins with private balconies and 12 Superior cabins with large picture windows.) motor vessel offering a seven-night eight-day rendezvous, Sunday to Sunday from October to April.
The 7 night Upstream itinerary from starts at Guwahati and ends in Jorhat in the State of Assam, while the 7 night Downstream itinerary starts from Jorhat to Guwahati in the State of Assam. Airport connectivity is available at Guwahati and Jorhat. All inclusive price starts from USD 350* per person per night for base category cabins.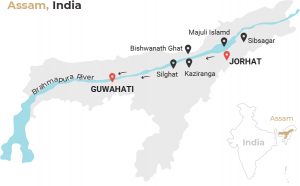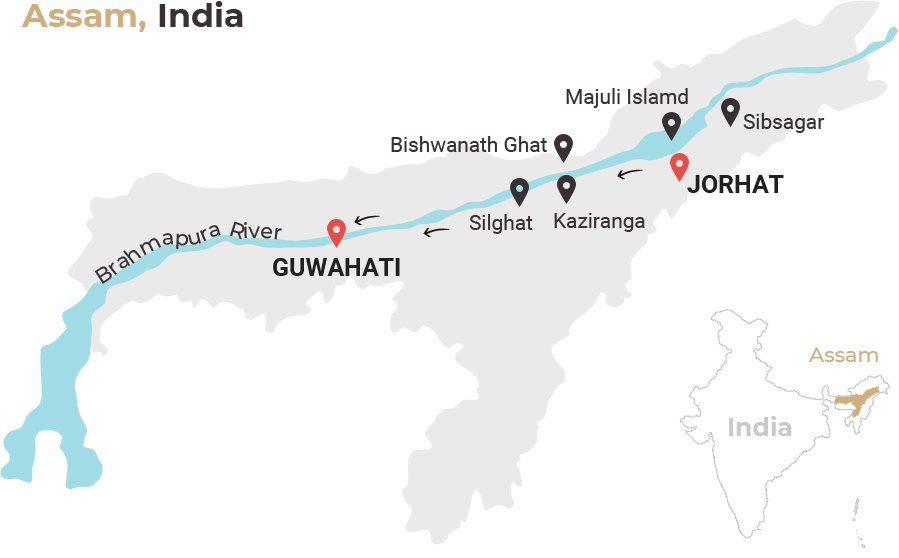 The Itinerary is subject to weather and river conditions or if we are faced with any political challenges. The tourism season is from October to April: In the coldest month of January, the temperatures range from 60-degree Fahrenheit to 70-degree Fahrenheit or 15-degree Celsius to 21-degree Celsius. Warm layering is required. Light rain can be expected so a parasol/mackintosh would be useful.
Binoculars and cameras will enhance the experience. Casual light comfortable clothes, comfortable walking shoes for all excursions, sun shades and hats are recommended. We organise Sit-down dinners at the end of the day. Breakfast and Lunch are buffet setting. Drinking Water systems are fitted in all cabins along with flasks for excursions. Tea/Coffee/cookies and hot water kettle facilities are available in each cabin. All items in the Minibar are chargeable. Laundry/Sauna/Steam/Jacuzzi/Ayurvedic therapies/Rejuvenation Massages/ Hair Spa facilities too are available on board.
Yog practice on pristine deserted sandy islands and to stroll the soft silver carpet of sand and continue into numinous bonfire evening under the distant suns that twinkle in our night sky of the northern hemisphere. Barbequed snacks in ethnic tribal style, a local brew to wash down, some games to indulge in and a traditional reverence to the son of Brahma for a safe passage completes the enthralling journey
Cruise with Confidence: We've added fresh procedures to upraise our hygiene ideals for every facet of onboard practice; air filtration systems, personal steel flasks, cabin-based water filtration units and added hand sanitizer stations at all exits and entries. Immunity-enhancing herbal teas, Yoga and nature-walks, cruising in the lap of wilderness and enjoying beverages on silver sands of deserted islands away from civilization are conducive in times of pandemic or any other infection. Ayurvedic treatments, Steam Sauna, and Jacuzzi for rejuvenation and a Paramedic on board are an added advantage.
*Terms and conditions apply.