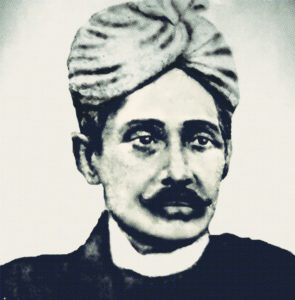 Maniram Dutta Baruah, popularly known as Maniram Dewan (17 April 1806 – 26 February 1858), was an Assamese in British India. He was one of the first people to establish Tea Gardens in Assam. He was a loyal ally of the British but was hanged during the 1857 uprising for conspiring against the British.
Robert Bruce was introduced to the Assamese tea plant by Dewan Maniram Dutta Baruah. The tea plant was already growing in the Singpho region as a tree and its leaves were being used as a beverage by the Singpho tribe. The sample was sent to Alexander Bruce in Sadiya and after research of 10 years it was discovered that this indigenous plant was indeed Camelia Sinensis.
Why is tea grown in Assam?
The tea plant is grown in the lowlands of Assam. It is cultivated in the valley of the Brahmaputra River, an area of clay soil rich in the nutrients of the floodplain. The climate varies between a cool, arid winter and a hot, humid rainy season. The long growing season and generous rainfall makes Assam one of the most prolific tea-producing regions in the world.
Assam tea is generally harvested twice, in a "first flush" and a "second flush". The first flush is picked during late March. The second flush, harvested later, is the more prized "tippy tea", named thus for the gold tips that appear on the leaves. This second flush, tippy tea, is sweeter and more full-bodied and is generally considered superior to the first flush tea.
History of Development of Tea in Assam
Charles Bruce guided a team, including Nathaniel Wallich, William Griffith and John McClelland, dispatched from the Tea Committee in 1836, to review the plant in its natural growing conditions around Sadiya. It was cultivated in the company's experimental garden with the first batch shipped to London in 1838 and auctioned in January 1839. Though it sold well the batch was noted as lacking fragrance compared to the tea from China which had been selectively cultivated for hundreds of years and having a dullness thought to be a consequence of inexperienced processing.
In 1837, the first English tea garden was established at Chabua in Upper Assam; in 1840, the Assam Tea Company began the commercial production of tea in the region, run by indentured servitude of the local inhabitants.
That same year, two companies were incorporated to pursue the tea development in Assam: the Assam Tea Association in London and the Bengal Tea Association in Kolkata, though they quickly amalgamated to form the Assam Company. Despite early proponents such as Maniram Dewan, British-led land reforms such as the Waste Lands Act to clear and privatize plots of land for agricultural purposes, the Assam Company struggled and was forced to reorganize in 1847.
Similarly, despite having access to a large source of inexpensive labour, including tea-makers smuggled out of China, indentured Indians, and refugees from famine-stricken areas, Assam at the time was a sparsely-populated, hot and humid undeveloped area and many died of disease.
Despite the poor results, investment came from Britain to establish additional tea gardens, such as the Jorehaut Tea Company around Jorhat, in 1860s; though by 1870, 56 of the 60 companies operating tea gardens in Assam went bankrupt. Industrial mechanization in the 1870s finally resulted in profitable companies as more plucked leaves were able to be dried without rotting in the humid environment. Heated withering tables and steam-powered rolling machines precipitated a need for grading so the British adapted the existing systems of tea leaf grading to sort their products. The Indian Tea Districts Association was established in London in 1879 and in Kolkata in 1881 (as the Indian Tea Association) to organize and advance these tea interests. By 1888 tea imported from India finally exceeded that from China. Today India is second to China in production of tea.
A tin of Assam tea could be CTC or Orthodox mostly
Most of the currently operating tea estates in Assam are members of the Assam Branch of the Indian Tea Association (ABITA), which is the oldest and most prominent body of tea producers of India.
Before Assam tea is in a cup
There are between two and seven steps involved in the processing of fresh tea leaves, the addition or exclusion of any of these stages results in a different type of tea. Each of these procedures is carried out in a climate-controlled facility to avoid spoilage due to excess moisture and fluctuating temperatures.
Step 1: Withering
Withering refers to the wilting of fresh green tea leaves. The purpose of withering is to reduce the moisture content in the leaves and to allow the flavor compounds to develop. While it can be done outdoors, controlled withering usually takes place indoors. Freshly plucked leaves are laid out in a series of troughs and subjected to hot air forced from underneath the troughs. During withering, the moisture content in the leaf is reduced by about 30%, making the leaf look limp and soft enough for rolling. Additionally, the volatile compounds in the leaf, including the level of caffeine and the flavors, begin to intensify. A short wither allows the leaves to retain a greenish appearance and grassy flavors while a longer wither darkens the leaf and intensifies the aromatic compounds.
Step 2: Plucking
Plucking the right leaves is of utmost importance and generally women are engaged for the purpose. They move from garden to garden and return to the first one after a week to 10 days to pluck the fresh leaves.
Step 3: Fixing
Fixing or "kill-green" refers to the process by which enzymatic browning of the wilted leaves is controlled through the application of heat. It is held that the longer it takes to fix the leaves, the more aromatic the tea will be. Fixing is carried out via steaming, pan firing, baking or with the use of heated tumblers. Application of steam, heats the leaves more quickly than pan firing, as a result of which steamed teas taste 'green' and vegetal while the pan-fired ones taste toasty. This procedure is carried out for green teas and yellow teas.
Step 4: Oxidation
Oxidation results in the browning of the leaves and intensification of their flavor compounds. From the moment they are plucked, the cells within the tea leaves are exposed to oxygen and the volatile compounds within them begin to undergo chemical reactions. It is at this stage that polyphenolic oxidase, including theaflavin and thearabigin, begin to develop within the leaves. Theaflavins lend briskness and brightness to the tea while thearabigins offer depth and fullness to the liquor that's produced. In order to bring out specific intensities in flavors, tea makers control the amount of oxidation the leaves undergo. Controlled-oxidation is typically carried out in a large room where the temperature is maintained at 25–30 °C and humidity stands steady at 60–70%. Here, withered and rolled leaves are spread out on long shelves and left to ferment for a fixed period, depending on the type of tea being made. To halt or slow down oxidation, fermented leaves are moved to a panning trough where they are heated and then dried. Due to oxidation, the leaves undergo a complete transformation and exhibit an aroma and taste profile that's completely different from the profile of the leaves that do not undergo this process. Less oxidized teas tend to retain most of their green color and vegetal characteristics due to lower production of polyphenols. A semi-oxidized leaf has a brown appearance and produces yellow-amber liquor. In a fully oxidized tea, amino acids and lipids break down completely, turning the leaves blackish-brown. The flavors in such a tea are brisker and imposing.
Step 5: Rolling
Rolling involves shaping the processed leaves into a tight form. As a part of this procedure, wilted / fixed leaves are gently rolled, and depending on the style, they are shaped to look wiry, kneaded, or as tightly rolled pellets. During the rolling action, essential oils and sap tend to ooze out of the leaves, intensifying the taste further. The more tightly rolled the leaves, the longer they will retain their freshness.
Step 6: Drying
Drying In order to keep the tea moisture-free, the leaves are dried at various stages of production. Drying enhances a tea's flavors and ensures its long shelf-life. Also, drying brings down the tea's moisture content to less than 1%. To dry the leaves, they are fired or roasted at a low temperature for a controlled period, typically inside an industrial scale oven. If the leaves are dried too quickly, the tea can turn abrasive and taste harsh.
Step 7: Aging
Aging some teas are subjected to aging and fermentation to make them more palatable. Some types of Chinese Pu-erh, for example, are fermented and aged for years, much like wine.
Separate time zone
Tea gardens in Assam do not follow the Indian Standard Time (IST), which is the time observed throughout India and Sri Lanka. The local time in Assam's tea gardens, known as "Tea Garden Time" or Sah Bagan Time (also used by Myanmar as MMT), is an hour ahead of the IST. The system was introduced during British days keeping in mind the early sunrise in this part of the country.
By and large, the system has subsequently been successful in increasing the productivity of tea garden workers as they save on daylight by finishing the work during daytime, and vice versa. Working time for tea laborers in the gardens is generally between 9 a.m. (IST 8 a.m.) to 5 p.m. (IST 4 p.m.) It may vary slightly from garden to garden.
How does one experience the unique features of Assam?
The river unites the three fascinating cultures of the Tibetan Civilization in the North, the sleepy villages of India in Arunachal Pradesh and Assam Valley and the bustling villages in the Delta of Bangladesh. There's more to this river in India's northeast than just its annual floods. The river is revered equally by the religious canvas of indigenous populace of Hindus, Jains, Sikhs, Buddhists, Muslims and Bons.
MV Mahabaahu offers an expedition form of cruising on the mighty Brahmaputra that refuses to be tamed. MV Mahabaahu is a 23 cabin (2 suites, 2 Luxury Cabins and 7 Deluxe Cabins with private balconies and 12 Superior cabins with large picture windows.) motor vessel offering a seven-night eight-day rendezvous, Sunday to Sunday from October to April.
The 7 night Upstream itinerary from starts at Guwahati and ends in Jorhat in the State of Assam, while the 7 night Downstream itinerary starts from Jorhat to Guwahati in the State of Assam. Airport connectivity is available at Guwahati and Jorhat. All inclusive price starts from USD 350* per person per night for base category cabins.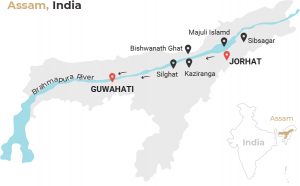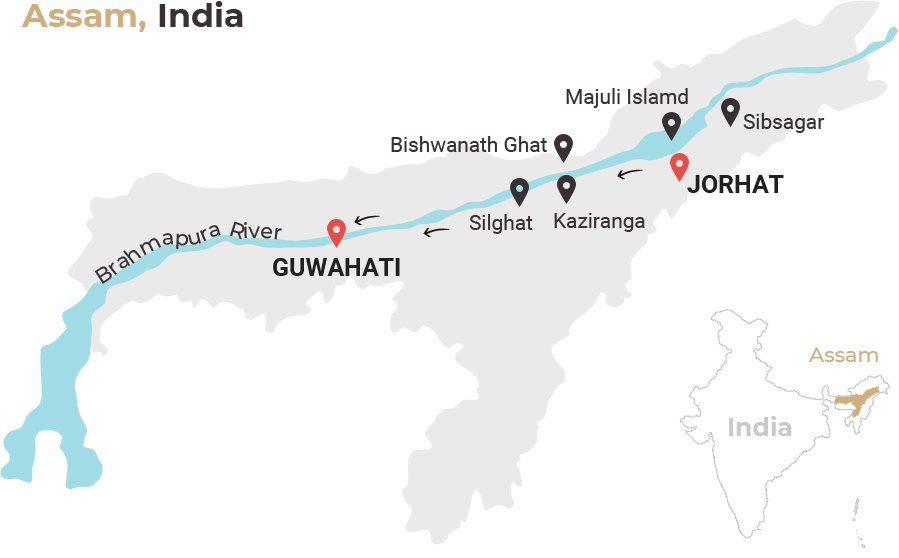 The Itinerary is subject to weather and river conditions or if we are faced with any political challenges. The tourism season is from October to April: In the coldest month of January, the temperatures range from 60-degree Fahrenheit to 70-degree Fahrenheit or 15-degree Celsius to 21-degree Celsius. Warm layering is required. Light rain can be expected so a parasol/mackintosh would be useful.
Binoculars and cameras will enhance the experience. Casual light comfortable clothes, comfortable walking shoes for all excursions, sun shades and hats are recommended. We organise Sit-down dinners at the end of the day. Breakfast and Lunch are buffet setting. Drinking Water systems are fitted in all cabins along with flasks for excursions. Tea/Coffee/cookies and hot water kettle facilities are available in each cabin. All items in the Minibar are chargeable. Laundry/Sauna/Steam/Jacuzzi/Ayurvedic therapies/Rejuvenation Massages/ Hair Spa facilities too are available on board.
Yog practice on pristine deserted sandy islands and to stroll the soft silver carpet of sand and continue into numinous bonfire evening under the distant suns that twinkle in our night sky of the northern hemisphere. Barbequed snacks in ethnic tribal style, a local brew to wash down, some games to indulge in and a traditional reverence to the son of Brahma for a safe passage completes the enthralling journey
Cruise with Confidence: We've added fresh procedures to upraise our hygiene ideals for every facet of onboard practice; air filtration systems, personal steel flasks, cabin-based water filtration units and added hand sanitizer stations at all exits and entries. Immunity-enhancing herbal teas, Yoga and nature-walks, cruising in the lap of wilderness and enjoying beverages on silver sands of deserted islands away from civilization are conducive in times of pandemic or any other infection. Ayurvedic treatments, Steam Sauna, and Jacuzzi for rejuvenation and a Paramedic on board are an added advantage.
*Terms and conditions apply.