Brahmaputra Legend:
'A drop of Brahma's blood fell into a sacred fire and by Shiva's will sprang Rudra of dark hue; five heads, ten hands and fifteen eyes and promptly left for Shiva's abode.'
We believe the five heads are the five headwaters, ten hands are the tributaries and 15 eyes are the glistening peaks. Rudra of dark skin refers to Brahmaputra that is turbid with silt and Shiva's abode is, of course, the snow-covered Himalaya. What a fanciful way to recall the ancient and the natural characteristics of a scenery! The highly braided waters of the Brahmaputra are Shiva's tresses.
The raw termini along the banks offer a plethora of tales in this ancient land of Bharat or India; legends that contain logical veracity enveloped in easy to recollect parables; protected by the aura of sanctity and passed unpretentious down to compeers.
Origin of the only male River in India:
A spring called Tamchok Khambab spills from the Angsi Glacier in the Chemayungdung mountain Ranges, sixty kilometres south east from Kailash Mansarovar. This spring later gathers breadth and volume to become the Yarlung Tsangpo in Tibet and flows eastwards forming the famous Namche Barawa U-turn and falls into the Yarlung Tsangpo Grand Canyon (5382 metres deep) before entering Arunachal Pradesh. These trans-boundary glacial waters drain 3848 Kilometres of length from Angsi to Bay of Bengal.
The entire river spine in Assam is navigable. The River Brahmaputra flows for 35 Kms in Arunachal Pradesh before entering Pragjyotishpura of yester years or Assam of today forming a 916-kilometre-long spine, flowing from Sadiya in the north-east to Dhuburi in the south-west and then flows southwards.
Brahmaputra River
The river unites the three fascinating cultures of the Tibetan Civilization in the North, the sleepy villages of India in Arunachal Pradesh and Assam Valley and the bustling villages in the Delta of Bangladesh. There's more to this river in India's northeast than just its annual floods. The river is revered equally by the religious canvas of indigenous populace of Hindus, Jains, Sikhs, Buddhists, Muslims and Bons.
The river offers both the world's smallest inhabited riverine island called the Peacock Island at one end of the cruise and at the other end the largest inhabited island, the Majuli Island. The 180 kilometre stretch from Guwahati to Silghat sees dotted small and large villages occupied by migrants from Bangladesh where women can be seen in sarees and men where checkered lungis and are of Muslim origin. The next stretch of 200 kilometres from Silghat to Neamati is dotted with ethnic Mishing tribals who are of Buddhist or of Vaishnav faith. Paddy, corn, sugarcane, peanuts, and vegetable farming along with weaving, pottery, boat making and fishing keeps this population busy on their seasonal sojourn on the mighty Brahmaputra.
What attracts us to Assam?
India's length and breadth has been enjoyed by millions of visitors but there are still swathes of landscapes and experiences that call for an access. Assam in the north east is one such State where the perfect fusion of rich heritage of tribes, simple populace of faith, and tradition of rituals thrives along the banks of Brahmaputra.
The UNESCO World Heritage Site of Kaziranga National Park; offers Jeep, Elephant, and Boat Safaris to observe the winged life and the Big Five in the lush foliage of elephant grass, deciduous and equatorial forest in the stunning backdrop of the Karbi Anglong hills of mist and sunshine bring to the fore a surreal effect.
The quaint villages off the tourist map offer simplistic ancient cultures of weaving, pottery, boat making and the drifting fishermen up close.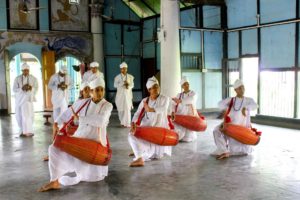 The Neo-Vaishnavs of the monasteries in Majuli invite the guest to witness the Priests clad in white dhoti kurta, dancing to the rhythm of drums and cymbals.
This famous and lush tea region of Tea plantations walks us into the affluent and opulent lifestyles of the English era.
The monuments of Shivasagar; Talatal Ghar, Rang Ghar and the Shiva Dol are a peep into the lives of the Ahoms. Guwahati showcases the unique Nilachal style temple architecture of the famous shaktipeeth of Kamakhya where the Goddess of desire is worshipped. And much more…
A few Fascinating Cultural Aspects:
Assamese Tribal dances are a rhythmic expression of the joys and beliefs of people; It depicts the Assamese spirit of victory in war, fertility in women, yield from the land, pacification of the elements and elimination of pestilence, protection from evil and fruition of love.
Folk Dances like those performed at the famous Bihu festival are less ritualistic; they are varied and reflective of day-to-day activities; reflect joy and merriment of life. Nritya (dance) and Natya (drama) are an essential part of culture. Mukha Bhawana; story-telling with masks is a popular art form of this region.
Magh Bihu or Bhogali Bihu is to celebrate the harvest in mid-January. It is derived from the word 'Bhog' which means feasting.
Kati Bihu or Kangali Bihu is celebrated when paddy begins to take root in mid-October. Diyas or earthen lamps are lighted under the Tulsi (basal) and Pooja (prayer) is performed for improved yield. In the evening the menfolk light akash bati (lamps hung from bamboos).
The first day of the Rangali Bihu in Baisakh (April) is for worshipping Goru (cattle); their body, horns and feet are washed in the river or ponds and they are allowed to graze free of any ropes and prayers are offered. Bihu dances could be Husori (song and dance by village elders to give blessings), Mukoli (by young men and women) or Jeng (only by women).
Reaching Assam:
The International tourists are received generally in Delhi, Mumbai, or Kolkata. The fastest is to take a flight to Guwahati or Jorhat. Flight from Delhi is only 2 hours 15 minutes and from Kolkata an hour only. Train journey too is a convenient way of arriving in Guwahati or Jorhat.
Best time to experience Assam's Riverscapes: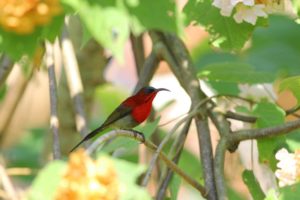 The touring season starts with the arrival of migratory birds in October to enjoy the swamps and ends with the flying away of these winged creatures by the end of April when the swamps start flooding.
How can life along the river be accessed by a world traveller?
These riverscapes can be enjoyed best when the space of comfort transports you to the destination and offers unparalleled soft adventure and hands on interaction with the simplistic lifestyles of various tribes that have lived off the river.
A 7 night Eight-Day Cruise on the Brahmaputra River on board, luxury vessel MV Mahabaahu offers a boutique experience.
How does one experience the unique features of Assam?
Essentially Wild Life, Rural & Tea Tourism, Tribal Cultures, Neo-Vaishnavites and Living History of Ahoms
MV Mahabaahu offers an expedition form of cruising on the mighty Brahmaputra that refuses to be tamed. MV Mahabaahu is a 23 cabin (2 suites, 2 Luxury Cabins and 7 Deluxe Cabins with private balconies and 12 Superior cabins with large picture windows.) motor vessel offering a seven-night eight-day rendezvous, Sunday to Sunday from October to April.
The 7 night Upstream itinerary from starts at Guwahati and ends in Jorhat in the State of Assam, while the 7 night Downstream itinerary starts from Jorhat to Guwahati in the State of Assam. Airport connectivity is available at Guwahati and Jorhat. All inclusive price starts from USD 350* per person per night for base category cabins.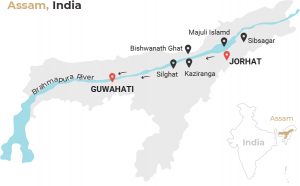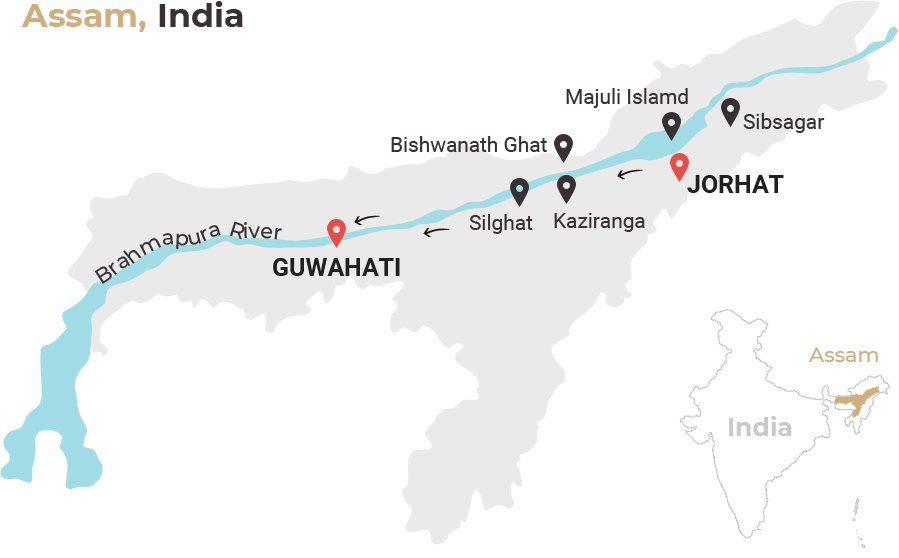 The Itinerary is subject to weather and river conditions or if we are faced with any political challenges. The tourism season is from October to April: In the coldest month of January, the temperatures range from 60-degree Fahrenheit to 70-degree Fahrenheit or 15-degree Celsius to 21-degree Celsius. Warm layering is required. Light rain can be expected so a parasol/mackintosh would be useful.
Binoculars and cameras will enhance the experience. Casual light comfortable clothes, comfortable walking shoes for all excursions, sun shades and hats are recommended. We organise Sit-down dinners at the end of the day. Breakfast and Lunch are buffet setting. Drinking Water systems are fitted in all cabins along with flasks for excursions. Tea/Coffee/cookies and hot water kettle facilities are available in each cabin. All items in the Minibar are chargeable. Laundry/Sauna/Steam/Jacuzzi/Ayurvedic therapies/Rejuvenation Massages/ Hair Spa facilities too are available on board.
Yog practice on pristine deserted sandy islands and to stroll the soft silver carpet of sand and continue into numinous bonfire evening under the distant suns that twinkle in our night sky of the northern hemisphere. Barbequed snacks in ethnic tribal style, a local brew to wash down, some games to indulge in and a traditional reverence to the son of Brahma for a safe passage completes the enthralling journey
Cruise with Confidence: We've added fresh procedures to upraise our hygiene ideals for every facet of onboard practice; air filtration systems, personal steel flasks, cabin-based water filtration units and added hand sanitizer stations at all exits and entries. Immunity-enhancing herbal teas, Yoga and nature-walks, cruising in the lap of wilderness and enjoying beverages on silver sands of deserted islands away from civilization are conducive in times of pandemic or any other infection. Ayurvedic treatments, Steam Sauna, and Jacuzzi for rejuvenation and a Paramedic on board are an added advantage.
*Terms and conditions apply.