Bamboo, Thatch, grass and leaf huts or 'Bhelaghar' are built in the temple complex or in the open space on the day of Maghar Domahi to mark the end of Pausha (winter) and arrival of Magh. This night of Paush and Magh is 'Uruka' and is marked by songs of harvest, fertility, merriment and teasing, along with dancing to folklores around Meji (bonfire). The festival celebrates the end of the harvesting season in the region and is dedicated to the God of Fire, 'Agni'. On this day the sun enters the zodiac sign of Capricorn (Makara) and its 'Uttarayana' (northern journey) begins announcing 'longer days'. Bihu the state festival of Assam celebrates the agrarian nature of the culture in Assam.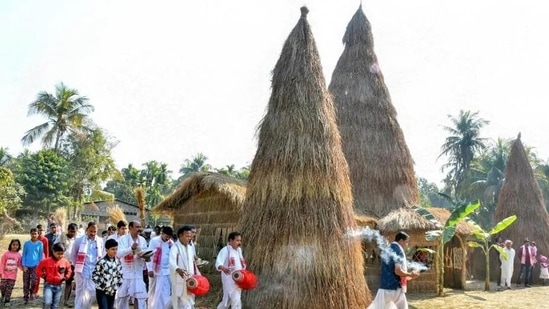 The word Bihu has been taken from the Sanskrit word Bishu meaning 'to seek peace'. The bhog served in the festival is of great importance and is a symbol of eating with the community. On this night of Uruka family and friends get together and cook and prepare and feast on a variety of dishes, including fish, meat, and vegetable dishes, that are enjoyed by everyone.
People circle around the fire and offer 'Maah Khorai' (black dal and rice dish) and 'Pithas' (rice cakes).
The next day, Assamese take a dip in the river and burn the 'Bhelaghar' of straw and bamboo built the previous day.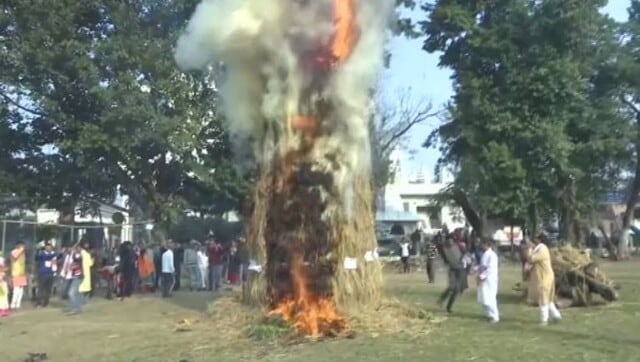 After the night of Uruka is the beginning of Magh that is welcomed with the traditional breakfast 'Jalpaan', served with 'Chira' or flattened rice, 'Akhoi' or puffed rice, as well as fresh cream or curd and jaggery. Varieties of Pitha, which are a very popular Assamese delicacy, laru (a type of sweet made from rice and jaggery), and xandoh (a type of sweet made from black gram and jaggery) add richness to the feast.
It is a time for people to give thanks for a bountiful harvest, to celebrate the end of the old agricultural cycle and the beginning of a new one, and to come together as a community. With the burning of Mejis and other traditional customs, Magh Bihu truly captures the essence of Assamese culture and tradition.
When Assam celebrates Maghar Domahi, the rest of India celebrates Makara Sankranti which is known by different names though observed on the same date, sometimes for multiple dates around the Makar Sankranti. It is known as Pedda Panduga in Andhra Pradesh; Makara Sankranti in Karnataka, Telangana, and Maharashtra; Pongal in Tamil Nadu, Magha Mela in parts of central and north India, as Makar Sankranti in the west, Makara Sankranti or Shankaranti in Kerala, Lohri in Punjab and Shishur Sankranti in Jammu and Kashmir.
Assam celebrates Maghar Domahi on the 13th of January together with the rest of India celebrating Makar Sankranti and it celebrates Magh Bihu on the 14th of January. Kite flying is a ritual during these days, all over India.
How does one experience the festivities of Assam?
MV Mahabaahu offers an expedition form of cruising on the mighty Brahmaputra that refuses to be tamed. MV Mahabaahu is a 23 cabin (2 suites, 2 Luxury Cabins and 7 Deluxe Cabins with private balconies and 12 Superior cabins with large picture windows.) motor vessel offering a seven-night eight-day rendezvous, Sunday to Sunday from October to April.
The 7 night Upstream itinerary from starts at Guwahati and ends in Jorhat in the State of Assam, while the 7 night Downstream itinerary starts from Jorhat to Guwahati in the State of Assam. Airport connectivity is available at Guwahati and Jorhat. All inclusive price starts from USD 350* per person per night for base category cabins.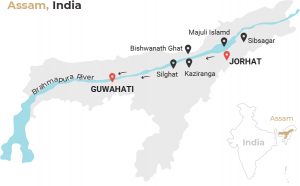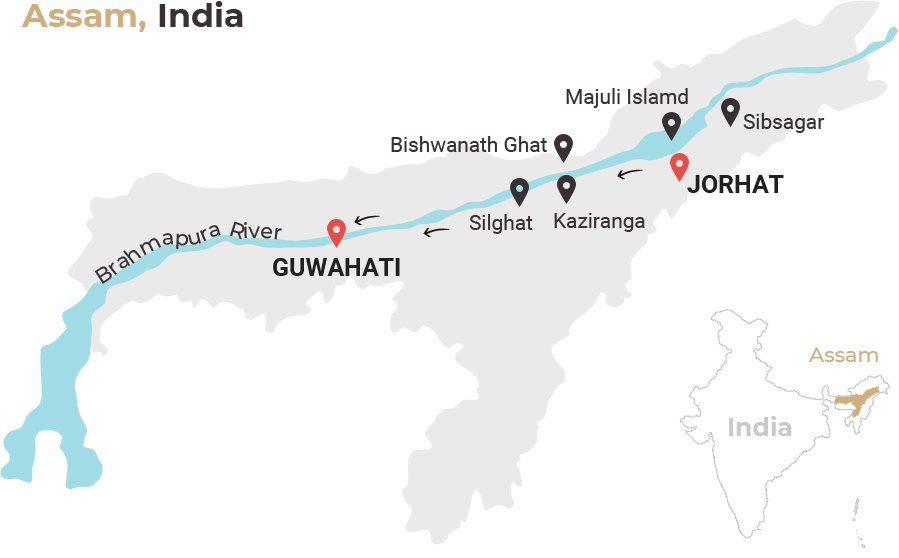 The Itinerary is subject to weather and river conditions or if we are faced with any political challenges. The tourism season is from October to April: In the coldest month of January, the temperatures range from 60-degree Fahrenheit to 70-degree Fahrenheit or 15-degree Celsius to 21-degree Celsius. Warm layering is required. Light rain can be expected so a parasol/mackintosh would be useful.
Binoculars and cameras will enhance the experience. Casual light comfortable clothes, comfortable walking shoes for all excursions, sun shades and hats are recommended. We organise Sit-down dinners at the end of the day. Breakfast and Lunch are buffet setting. Drinking Water systems are fitted in all cabins along with flasks for excursions. Tea/Coffee/cookies and hot water kettle facilities are available in each cabin. All items in the Minibar are chargeable. Laundry/Sauna/Steam/Jacuzzi/Ayurvedic therapies/Rejuvenation Massages/ Hair Spa facilities too are available on board.
Yog practice on pristine deserted sandy islands and to stroll the soft silver carpet of sand and continue into numinous bonfire evening under the distant suns that twinkle in our night sky of the northern hemisphere. Barbequed snacks in ethnic tribal style, a local brew to wash down, some games to indulge in and a traditional reverence to the son of Brahma for a safe passage completes the enthralling journey
Cruise with Confidence: We've added fresh procedures to upraise our hygiene ideals for every facet of onboard practice; air filtration systems, personal steel flasks, cabin-based water filtration units and added hand sanitizer stations at all exits and entries. Immunity-enhancing herbal teas, Yoga and nature-walks, cruising in the lap of wilderness and enjoying beverages on silver sands of deserted islands away from civilization are conducive in times of pandemic or any other infection. Ayurvedic treatments, Steam Sauna, and Jacuzzi for rejuvenation and a Paramedic on board are an added advantage.
*Terms and conditions apply.