The geo-socio-cultural diversity of Kerala has deep influence on its kitchen, cuisine and culinary art. As we travel exploring the beaches, the rivers, the hills and the Forests of the mighty Western Ghats, we can vividly experience influence of the Jews, Arabs, Portuguese, Dutch and the British, on the Gastronomic culture of Kerala.
The Kitchen
According to Kerala's architectural tradition, kitchen can be either at the northern side or eastern side so as to get the energy from the sun during day time and the energy produced by the seven stars that appears in the north in the night. Kitchen can come at the north-west or northeast corner at the southeast corner. However, it is eastern side is the best as per Vasthu rules.
Kitchen is considered as sacred and hence hygiene and cleanliness of a kitchen is of top priority. In family kitchen, usually, the lady of the house manages cooking and cleaning. She takes bath, light the lamp and pray before starting cooking for a normal day.
For large gatherings such as weddings, for which traditional cooking vessels bronze and cast-iron vessels are required, men take charge of cooking and women participate in cleaning, serving and waste management. Steel, bronze, clay and cast-iron vessels are used for cooking traditional dishes. Percaline and glass are common now days in modern kitchen.
The preparation of traditional dishes involves soaking, grinding and fermentation. The cooking involves steaming, frying, sautéing, seasoning and garnishing. Different types of vessels are required to prepare different types of dishes. There are a few traditions rules recommended for serving food.
Sadya – the traditional feast of Kerala
The sumptuous traditional feast of Kerala – Sadya – is a complete meal incorporating all the 6 resaas (tastes-such as sweet, sour, salt, pungent, bitter and astringent) which are required for the balancing of the constitution (5 elements) of the human body. The main course of the meal, rice, is served hot, along with purified butter and 6 dishes with local vegetables and pulses. Inchi curry – the sweet and tangy preserve of ginger in tamarind, jaggery and gingelly oil-complements all other dishes of the meal. The papad, chips, ripe banana, lemon pickle, mango pickles are served as appetisers. The dessert, Paayasam, is a preparation with a special type of rice pasta, milk/coconut milk and sugar/jaggery, flavoured with cardamom and garnished with cashew nut and dried grapes. Resam- the spicy and tangy concoction and butter milk are served at the end of the meal for the easy digestion of this elaborate meal
The traditional meal is served on banana leaf, which is packed with the natural antioxidant- Polyphenol. The food has to be fresh and warm. The drinking water should be boiled with herbs.
The host is supposed to ensure that the guests are comfortably seated in neat and clean place, the dishes are served in specific order in appropriate quantity and fed with care. After finishing the meal, the guest is expected to keep the banana leaf folded as token of appreciation.
Being a fertile land that yields rich harvest, fresh dairy products, vegetables, fruits, fish, poultry and meat are lavishly available to prepare sumptuous treats. As per the tradition 3 simple meals are needed for a person, with right proportion of cereals, pulses, vegetables and fruits, depending on the constitution of the body, physically activity and exposure to harsh weather.
Traditionally the recipes are decided based on the Vedic science of holistic living/Ayurveda, that preparation, appearance, aroma, and freshness of food influence not only the constitution of the body but also the mind and the soul. Incompatible combinations of food upset not only digestion only but may also other systems of the body. Some of the incompatible combinations are:
Green tea or black tea and milk
Milk and yoghurt
Tea and garlic
Pomegranate juice and grapefruit juice
Unripe (green) tomatoes or potatoes and alcohol
Deep frying of potatoes
Heated honey
Starch & Protein
Influence of foreign culture
The Gastronomic culture of Kerala has its roots from the indigenous tribes who prepared their food using the edible roots, plants, fish and meat. Their culinary techniques have undergone transformation along with the time and so also the taste and value of the food. Both vegetarian and non-vegetarian food are popular in the region. Locally grown spices are used in right proportion to add aroma and enhance the taste of the food. Fresh Pepper, ginger, clove, maze and cinnamon are mostly used in non-vegetarian dishes and cardamom is used to give peasant flavor for desserts. Chilli, Cumin, coriander, mustard, fenugreek and asafoetida are generally used in vegetarian food. Turmeric and curry leaves are unavoidable ingredients of all the dishes of Kerala.
Fresh curry leaves are added while cooking the dishes so as for its aroma blends with the ingredients. After cooking the leaves are discarded.
Kerala gastronomic concepts were influenced significantly with the arrival of foreign traders, missionaries and the colonialists. Non-vegetarian food, fine dining and gourmet food which were introduced by the Western trading communities have gained much demand among the new generation food enthusiasts.
The Jews, Christians, Arabs, Konkani, Kutchi Memon, Anglo Indians and Gujrati had influence on Keralaites to a great extent. The Syrian Christians (Nazranis) the followers of St. Thomas who arrived in Kerala around 2000 years ago, preserved and popularised their traditional cuisine.
The culinary delights introduced by the foreign cultures.
Appam & Stew
Rice, toddy and coconut milk are the ingredients of Appam (Kallappam)- the round pancake with soft core and golden-brown lacy edges.
Ingredients
Raw Rice – ½ kg, Coconut (grated) – 1 full, Toddy – ½ cup OR, ½ teaspoon yeast dissolved in ½ cup warm water, Salt – to taste, Sugar – 3 tsp., Cooked Rice – ½ cup
Method of Preparation:
Soak rice for about four hours and drain the water completely. Take the cooked rice and grind it with grated coconut in a mixer. Put yeast, salt and sugar in boiled water and keep it for half-an- hour. Add this to the ground mixture. Keep the mixture for eight hours to ferment. Spread the mixture thickly on a non-stick pan. Spread it around a bit.
Chicken Stew
Chicken Pieces – ½ kg, Potato – 1,Big Onion – 2, Carrot – 1 big, Green Chilli – 5 no.,Garlic –8 flakes,Ginger – 1 piece,Cinnamon – 2 sticks,Cloves – 4 nos.,Cardamom – 3 nos.,Bay Leaf – 1,Curry Leaves , Coriander Leaves, Coconut Oil – 3 tsp.Thick Coconut Milk – 1 cup.
Crushed Pepper – ½ tsp.
Method of Preparation
Cut chicken, onions and carrots into cubes. Heat two teaspoons of coconut oil in a pressure cooker. Put clove, cinnamon and cardamom. Stir a bit. Now add to this garlic and ginger, followed by onions, carrots, potatoes and green chilies. Again stir a bit. You may now add the chicken pieces. Stir again. Add bay leaf. Pour half-a-cup of water. Now close the lid and cook for three minutes.
Remove the lid and shift the contents into a sauce pan. Stir a bit. Now add salt, crushed pepper, curry leaves and coriander leaves. Stir well. Add the thick coconut milk and a little amount of oil. Stir well and cook for about two minutes. Finally garnish it with curry leaves.
Duck curry
Ingredients:
1 duck or chicken, 1/2 kg tomatoes, 2 pods garlic, 1 big piece turmeric powdered, 1 level tsp powdered cumin seeds, 4 egg-sized big onions, 30 ml vinegar, 60 ml good quality ghee, salt to taste.
Method:
Heat ghee in a vessel, add onions and fry till light brown. Add turmeric powder. Then add sliced garlic, the duck pieces, and fry a bit more. Then add chopped tomatoes salt and vinegar, enough water and cook covered until the water is cooked down and ghee floats. If you want a nice gravy, fry 8 red chillies, powder it and add with the rest of the masala. Remove from fire when there is enough gravy.
Coconut rice ( Jewish cuisine)
Preparation Process:
Wash 1 cup (see note) of good quality rice and keep to drain in a colander. Grind 10 red
chillies and 1 small piece of turmeric to a fine paste. Heat 1/4 cup ghee in a vessel and fry some cashew nuts till brown and keep aside. Then splutter a little mustard and curry leaves, add the ground paste. When the raw smell is gone, add the rice and fry on low fire for a while. Then add double the volume of the rice of thick coconut milk, enough salt, and cook covered until the rice is cooked and dry.
Garnish with the fried cashew nuts. Serve with any chicken or mutton curry.
***Note
The measure of rice here is given as 1 naazhi, which is the smallest measuring cup used in olden times in Kerala. One naazhi will be about 1-3/4 cups.
Orappom
Ingredients:
1 naazhi finely powdered fried rice flour, 1 naazhi jaggery syrup-cleaned of all impurities, 1big coconut, 1 pinch fennel seeds), 2 eggs yolks only, 2 tbsp. chopped cashew, 2 tbsp. raisins, 1/4 cup ghee.
Preparation:
Grate the coconut, extract 1 cup each of the first and second milk. Take the thick first milk in a heavy-bottomed vessel and boil until the sediment separates and starts to brown. In the meantime, mix the rice flour into the second milk, add beaten egg yolks, fried cashew and raisins, pinch of fennel , pinch of salt, and add to the first milk just as the sediment starts to brown. Stir well until it thickens. Then pour ghee on top and bake or steam until top is brown. When cool, turn onto a plate and cut into pieces.
Fish Mappas
Fish Mappas is prepared with white pomfrets, coconut milk, onion, tomato, curry leaves and spices.
4 pomfrets ,1 teaspoon mustard seeds,1 tablespoon coriander powder,2 medium onions,1 teaspoon mustard powder,1 1/2 cup coconut milk,2 onion shallots,1/2 teaspoon garlic,1 teaspoon fenugreek seeds,4 tablespoon coconut oil,4 green chilli, 2 small tomatoes, 2 pieces of kokum, 2 cups of fish stock, 1/2 teaspoon ginger.
Preparation
Chop all the veggies. Heat oil in a pan over medium flame and add mustard seeds, fenugreek seeds, onions, green chilies, and curry leaves. Saute till they turn brownish in colour.
Add mustard powder, tomatoes and coriander powder to it and mix well. After 2 minutes, add the fish stock along with the fish pieces and kokum. Cover with a lid and cook for 5 minutes. Add coconut milk and stir to mix everything well. Cover and simmer for 10 minutes on low flame. Season with coconut oil, Mustard, fenugreek and curry leaves.
Achappam (Rose cookie)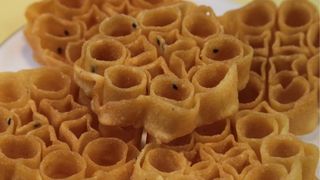 A special mould shaped like a flower fixed on a long handle is required to make this snack. This mould has to be kept dipped in hot oil. Dip hot mould is dipped in thick batter it tends to stick on the mould
Ingredients: –
Rice Flour- 4 Cups (not roasted), Egg- 2, Thick Coconut Milk (First Extract)- 1/2 Cup,Sugar- 1/2 cup, Salt, Sesame Seeds- 1 – 1 1/2 tbs, Oil- for deep frying.
Preparation:
prepare a semi-thick batter in a large mixing bowl by slowly adding the coconut milk to rice flour. Beat eggs in a bowl, one at a time. Combine the beaten eggs to the flour mixture along with the sugar, sesame seeds, essence and salt, mix well.
Heat oil over medium flame. Place the mould in the very hot oil for a minute. Dip three-fourth of the hot mould into the batter and then, put it back in the hot oil. Shake the handle of the mould gently so as to get the cookie detached from the mould. Fry both sides until it become golden brown.
Paayasam – the traditional dessert
Ingredients
Rice pasta is the main ingredient for making the Paayasam, which can be bout from shops or can be made at home.
Preparation of the pasta:
Traditional method of making the rice pasta.
Make a soft dough of rice powder and tapioca powder taken in equal proportion, adding water, salt and spoon full of oil. Spread it out on pieces of banana leaves and boil. Drain the water so as to remove the starch. When cool, detach the cooked spread from the banana leaf and slice in to small pieces and dry in the sunlight.
Cook the starch-free pasta in diluted coconut milk. Add jaggery and mix well, over low fire. Add thick milk of coconut and stir well until the mixture is about to boil. Flavour with cardamom powder and garnish with fried coconut bits, or cashew nuts and dried grapes.
X'Mas Cake (Plum cake)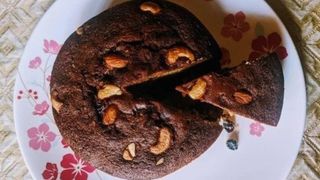 All Purpose Flour: 1 ¼ Cups, Baking Powder.3/4 Teaspoon, Baking Soda:1/2 Teaspoon, Salt: a pinch, Spices (Powdered): quarter teaspoon, each, dry Ginger, Cardamom, Cloves, Cinnamon, nut meg & Caraway Seeds, Unsalted Butter:1/2 Cup, Vegetable Oil:3 Tablespoons, Sugar 3/4 Cup, Eggs-3, Vanilla-1 Teaspoon, dried fruits, chopped-1 Cup, Cashew Nuts, chopped:1/2 Cup,
1 tablespoons of Flour to coat the Plums and Cashew Nuts.
Dry fruits
Dates, Black currants, plums, figs, pine apple, kiwi, cut into small cubes and mx well.
Caramel
Sugar 250grams
Hot Water: quarter cup
Heat Sugar with a Tablespoon of Water in a thick bottomed sauce pan on medium low heat till its color become brown. Add boiled Water and let the Sugar dissolve. Remove from heat and let it cool down completely before using..
***Baking
Preheat the oven to 350˚F/ 180˚C.Grease the baking tray.Sift together Flour along with Baking Powder, baking soda, powdered spices. Add caraway seeds.Blend together Butter, Oil, Sugar andVanilla until the mixture become smooth and fluffy.Add Eggs one at a time and beat well after each addition.Mix in the dried fruits and Carmel to the above blended mixture.Fold in the sifted mixture to the Batter. Toss the bits of dry fruits and Cashew with spoon full of flour and add to the batter.
Bake for 30-40 minutes.
Mussels -Malabar delicacy
Mussels – 16, Soaked Rice – 250 g, Shallots – 75 g, Curry Leaves,Grated Fresh Coconut – 75 g
Fennel seeds – 1 tspS, alt – to taste, Oil – to fry.
For Marinate
Red Chilli powder – 1 tbsp, Turmeric – 1 pinch, Ginger Garlic paste – 1 tsp, Lime juice – 1 tsp
Salt – to taste
Preparation
Clean mussels. grind the soaked rice along with shallots, turmeric, fennels and curry leaf Stuff the paste in the mussels and steam. When cool, marinate the stuffing and shallow fry till the become crisp. Serve along with the tamarind chutney.
Cook tamarind pulp, jaggery, crisp fried chopped ginger, salt and chilli powder together for 15 mts. Add 2 teaspoon of hot oil and gently stir in.
Malabar Biriyani
Basmathi rice – 1 kg, Chicken – 1kg, Grind green chili, cinnamon, cloves, fennel, cardamom, peppercorn together- 4tbsp.of paste, Green chilli – 10, Ginger garlic paste – 2 tbsp, Coriander leaves – 50 g, Mint leaves – 25 gm, Curd – 150 ml, Tomato – 150 g, Onion – 1 kg, Black cumin seeds – 1 teaspoon, Cinnamon – 2 pieces, Bay leaves – 2, Cashew nuts kismis – 50 g, cardamom – 5,Ghee – 200 g, Coriander powder – 2 tbsp, Saffron – 1 pinch, Water (For rice) – 1 litre.
Preparation
Sauté onion in purified butter till golden brown colour. Add sliced tomatoes and sauté until cooked. Mix ginger garlic paste, curd and biriyani masala and turmeric powder, and coriander powder. Add the chicken pieces and cook well.
Soak the rice for about 10 minutes and drain well. Melt the ghee in a saucepan and add in the spices, sliced onion, mint, coriander leaves, cashew nuts, kismis, bay leaves and saute till brown in colour. Add milk and water. Wait till it comes to a boil and then add rice. Lower the heat, cover the pan with a lid and continue to cook for 15 minutes.
Take another saucepan and place half the rice into it. Now put the cooked chicken on the top of the rice. Add the remaining rice on top of the chicken. Spread the contents of the pan to make an even layer. Make random holes through the rice with a spoon and springle saffron.. Place a few spoons of ghee, fried onion, cashew nuts and kismis on the surface and cover tightly. The delicious Malabar biriyani is ready to be served.
Konkani cuisine
Bhorlolo ponosu
Fleeing the atrocities of the Portuguese, the Konkani community of Goa migrated to Kerala around 700 years ago. Their temple in West Cochin (Mattancherry) is 450years old and the one in Ernakulam is 290years old. The King of Cochin granted them land to settle down, allowed to run schools for their community and supported their traditional businesses to flourish
Ingredients:10 numbers of deseeded ripe jackfruit bulbs of 'Varikka' ('Borko' in Konkani) variety jackfruit, ½ cup raw rice,½ cup jaggery, ¼ cup grated coconut, 5 to 6 nos cardamom, Ghee for greasing the plate and salt a pinch
Preparation
Soak the rice for 4-5 hours. Drain the water and grind to a paste. Mix grated coconut ,jaggery and cardamom powder. Make a slit in the Jackfruit bulb, take out the nut. Refill the fruit with this mix and steam.
Gujrati cuisine
Paav Baji and the traditional meal of Gujrat – Thaali – are much loved by Keralaites. The dishes are sweet, tangy and scrumptious During the festival season, people from all walks of life in Cochin line up before the sweet stalls in Mattancherry relish the sweets of Gujrat. . Shanti Lal Sweet shop is very popular in the region for variety of burfi, Peda, Jalebi, Jamun and Laddu.
Kutchi Muslim cuisine
Kutchi Muslims, locally known as Kutchi Memons, migrated to Alleppey and Cochin during 19th century, to escape from the draught. With high business acumen, the community their business flourished and integrated with the local community. Some of the old establishments can still be seen in Mattancherry. Many of the community members hold senior position of Chamber of Commerce. Seafood, real estate, hospitality and trade
Dabeli is made by mixing mashed boiled potatoes with a special masala, and encasing the mixture in a ladi pav. The Kutchi Dabeli is garnished with pomegranate pearls and roasted peanuts, and served with a chutney made from tamarind, dates, garlic, and red chilies.
Anglo Indian cuisine
Anglo-Indians are the descendants of the Portuguesa, the Dutch and the British who married from the locality and settled here. The traditions and customs which they follow are different from the Christians.
Chicken Vindaloo
Chicken pieces: 1kg, ginger garlic paste-1tablespoon, tomato paste 3tablespoon, Onion 4, potato, red chili powder-1 table spoon, mustard powder-half table spoon, cumin/ jeera powder-1/4table spoon, garam masala powder-1/4 table spoon, turmeric powder-1/4 table spoon,8 teaspoons vinegar or more to taste, Oil, Salt to taste.
Mix the red chili, mustard, cumin, turmeric and garam masala powders and ginger garlic paste with a little water and vinegar (approximately 4 teaspoons) to form the vindaloo paste.Fry the chopped onions for approximately 15-20 minutes on medium heat. The onions are fried sufficiently when the sides of the pan turn shiny and oily and the onions have turned golden brown. Add masala paste to the fried onions and a splash of water if required to prevent the masala from burning. Add the tomato paste and fry for about 10 minutes until completely macerated and oil starts coming out onto the sides of the pan. See picture below.
Add the chicken, mix well and fry lightly.
Add water to almost cover the chicken. Add salt. Cover and let it cook on medium heat.
After 15 minutes, add sliced potatoes. Cover and cook for another 20-25 minutes until the chicken is cooked (The chicken is cooked when the chicken is pierced and juices run clear).
Add more salt and vinegar (approximately 4 teaspoons of vinegar) to taste
Pan Rolls with Sweet Coconut Filling
Ingredients: For the pancake batter:1/2 cup white all-purpose flour, 1 egg, 1 cup milk, teaspoons sugar, A drop of vanilla essence, tablespoons water for consistency, Butter/oil for frying
For the coconut filling: 1 cup of grated coconut, 4 teaspoons of jaggery or sugar, 1/4- 1/2 teaspoon grated nutmeg,
Preparation:
The batter: lightly whisk together the flour, egg, milk, sugar, vanilla essence and water to make a smooth, lump free batter of thin consistency.
Roll the thin pancake with the coconut filling.
How does one learn the traditions of Aranmula?
Cruise with us onboard RV Vaikundam to experience the melange of rituals, art and traditions which continue to nourish the social harmony of Aranmula as it had been ever before.
RV Vaikundam offers an expedition form of cruising on the Backwaters of Kerala. RV Vaikundam is a 9 cabin (1 Deluxe Cabins and 8 Superior cabins) motor vessel offering a seven-night eight-day rendezvous, from October to April.
On day 2 of the 7 night North-South Cruise we visit the village spending time with the coir weavers, the shell harvesters and farmers, engaging in conversation with them about the riparian life, and watching various indigenous techniques of fishing. Coir, one of the major exports of Kerala, is of much relevance today than ever before when plastic has become a global menace. People of Chenganda are major suppliers of this cottage industry.
The 7 night North-South Itinerary starts at Kochi and ends in Alleppey in the State of Kerala, while the 7 night South-North Itinerary starts from Alleppey to Kochi in the State of Kerala. Airport connectivity is available at Kochi. All inclusive price starts from USD 250* per person per night for base category cabins. *Terms and conditions apply.
The Itinerary is subject to weather and river conditions or if we are faced with any political challenges. The tourism season is from October to April.