Kerala with its colourful, vibrant and buoyant festivals is one of the most culturally rich regions of India. If you love the pomp and splendour of Indian festivals then Kerala is the perfect place for you to visit.
Here are the five incredible festivals of Kerala, that travellers should experience at least once:
Onam: Onam is a well renowned Hindu festival that is 10 days long. The striking features of this festival involve kathakali, indoor and outdoor games, and most importantly, the traditional boat races. It is celebrated between the months of August and September and is also known as the harvest festival of Kerala.
Other major attractions of this festival are tiger play, flower rangoli, Thumbi Thullal, and Onasadya. Onasadya is a grand feast prepared on Thiruvonam and is an impressive part of Onam celebrations. It is a 9-course meal consisting of almost 12 essential dishes.

This festival is a great combination of food, traditions, sports and culture.
Vishu: This is a new year celebration for the people of Kerala based on the ancient astrological Malayalam calendar. Vishu is celebrated in the month of April, Malayalis begin this day by offering flower garlands, gold coins and clothes to Lord Krishna as gratitude. Traditionally called Vishukanni which roughly translates to seeing the sight of god first thing in the morning. The custom is for people to wake up and without opening their eyes heading to the puja (prayer) room in their homes and ensuring that the first thing they see is the Vishukanni. This ritual is called "Kannikanal".
On this day, people organise a grand lunch called Vishu Sadya, which includes traditional the favorite meals of the locals such as Vishu Kanji (made of rice, coconut milk and spices), Vishu Katta (prepared from rice powder, coconut milk and jaggery), Thoram (a side-dish) and Mambazha Ppulissery( sour mango soup).
Arattupuzha Pooram: This is one of the oldest Pooram temple festivals in Kerala and has been celebrated for more than 200 years, dedicated to the goddess Durga and Kali.
This festival is celebrated at the Sree Sastha Temple in Thrissur every year for 7 days with traditional rituals and ends with a splendid display of fireworks. It involves colours, music, religion and mass participation.
Celebrated in April, a major attraction of the festival is the enthralling sights of more than fifty beautifully decorated elephants passing through the streets of Thrissur at the sound of beating drums.
Traditionally, 23 deities from the neighbouring temples in Thrissur are brought to Sree Sastha Temple and are worshipped together. Witnessing the fervour and devotion of the festival while being surrounded by the collective faith of thousands is an experience you will always remember.
Rathosalvam: One of the most ancient traditions of India is the Ratholsavam festival of Sree Viswanatha Swamy Temple in Kalpathy in the Palakkad district. Rathosalvam is a 700-year-old 10-day chariot festival held been October and November where the idols of the main deities are taken out from the temple and are placed in chariots that have been intricately decorated.
There are primarily 3 chariots. The first chariot is meant jointly for the main deities, Lord Vishwanatha or Shiva and Goddess Visalakshi, the second one is meant for Lord Vigneswara and the third chariot is for Lord Subramanya.
The procession itself is a sight to behold with thousands of worshippers singing and dancing to show their love and respect which is popularly known as 'Devarathasamgamam'. The most important days of the festival are the last 3 days when deities from adjoining temples also join the procession.

A two hour trip from Coimbatore is all it takes to behold this magnanimous grandeur of Kerala's customs and the remarkable faith of generations who have been carrying the traditions for 7 centuries.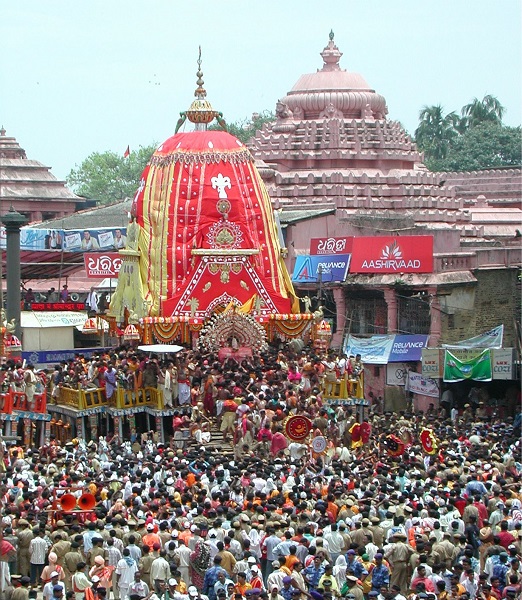 Theyyam festival: India is a land of ancient art and Kerala is home to several historical art forms once of which is Theyyam. Theyyam is an 800-year-old cultural art form that originated in Northern Kerala. It is a way of telling stories and legends through various forms like dance, mime, and theatrical gestures. There are over 400 types of Theyyam which involve performers donning painstakingly applied make-up, elaborate costumes and body art.

Theyyam is a way of honouring historical legends and heroes by continuing to tell their stories to future generations. It is celebrated usually from December to April. The major attractions of this festival include mythological stories being enacted through the "Dance of Gods" performance.
The unique thing about India is that while different states celebrate the same festivals, the traditions and customs change as you cross state boundaries. Each culture has its own festivals and rituals, and each festival carries its own historical significance.
The festivals of Kerala have their own unique charm in the way that art, theatre and dance is always a part of the celebrations. Deep devotion is shown in the most imaginative and creative ways. Perhaps this is one of the many reasons why Kerala is referred to as God's Own Country.
Pair these amazing festive experiences with an immersive cruise journey through Kerala's waterways. Want to know more? Click here