The river that forms the spine of Assam has had a very definite sway on the life of those who decided to accept its banks as their dwelling, in spite of the vagaries of this magnificent water body. For ages, the simple peace-loving and observant Assamese studied the eddies of this adversary and overcame the undercurrents by building low draft boats. The Assamese took advantage of the enemy who came as Mughals and British invaders by placing themselves on the familiar end of the river and fought the enemy strategically.
The October to April window enables the luxury cruises to bring in inbound travellers and showcase the mighty Brahmaputra. The Brahmaputra waterways give access to the bamboo rich regions of the north to sail down bamboo rafts to supply this commercial crop to the lower regions. This river being as wide as it is, demands that there be boats and ferries to transport people from one shore to the other and encourage commercial competence.
The benevolence of the river allows the sand islands or 'chars' to expand and the entrepreneurship of the locals to take flight. Vegetables, mustard, paddy, pulses, corn, sugarcane, groundnuts, jutropha curcos for bio-diesel are grown on chars. These chars very quickly get covered by vegetation and are great spaces for cattle grazing. So many Assamese are involved in dairy. The people live off the river and regularly harvest fish for subsistence. Jute grows rapidly in this river basin and availability of ready flowing water asssists in extracting jute fibre giving rise to jute products. The sual tree for silkworm thrives in this moisture laden atmosphere along the banks and so the silk industry.
There is abundance of water hyacinth in the lakes and ponds and beels of Assam and the Assamese are rightly exploiting it for their economic upliftment. Extracting water hyacin fibre and weaving bags and beautiful baskets are Weaving fishing nets, making fish hooks and using looms for weaving both silk and cotton cloth (silk cotton trees are in abundance all along Brahmaputra). The river folk indulge in all types of crafts which fall in the category of cottage industry and work from home.
Assam and its craftsmanship
1. Extracting silk from silkworms and producing a variety of silk weaves like Paat, Muga and Eri. Paat is white silk and can be dyed into the most attractive colours. The golden silk is beautiful and is not dyed. Eri silk has a rough appearance and is warm to touch.
2. Decorative Candles: Traditional candle making units are available in all parts of the state based on available petroleum raw materials. The concept of production of decorative candle making started few years back and more than 200 artisans now directly involved in making decorative candles in Assam.
3. Jewellery Craft: Assam has more than 48000 unregistered Jewellery units and more than 2.5 lakh artisans directly involved. The traditional Assamese Jewellery are found in Barpeta (40 units), Jorhat (40 units) and Ranthali (450 units) in Nagaon district.
4. Bamboo: The major production of bamboo in Assam is now being utilized by The Hindustan Paper Corporation Ltd (HPCL) in its two mills at Jagiroad (Morigaon) and Panchgram (Hailakandi).
Bamboo, a highly versatile resource of Assam has gained considerable importance in the socio-economic life of people of rural Assam. It provides a subsidiary occupation to the cultivators and full-time occupation to the highly skilled artisans who produce fine decorative baskets, furniture and mats, ceremonial jaapis, fishing contraptions on commercial scale.The essential equipments required for the industry are dao and knife which are invariably found in every family.
5. Fireworks Crafts of Barpeta: Late Lakshiram Pathak of Majorhati, was the founder of fireworks industry in Barpeta. The production is mainly dependent on various festivals, mostly during Durga puja to Dipawali period.
It is general tendency to procure raw materials and others to capture the market. As the firecracker units of Barpeta are very small in size, they prefer to use traditional hand tools like hand pounding machine (dheki/ural), kerahi , hammer etc.
6. Cane Craft of Assam: There are 14 species of cane that grow in the cane brakes in forests of Assam. The making of cane products is a growing cottage industry of the State which abounds in cane. Extrication of the thorny cane from the thick jungles is a difficult task. The forest authorities grant leases to the Mahaldars to extricate cane from forests. The equipment required for the industry are mainly dao and knife and it is in the making of furniture that few hammers, pliers or pincers, etc., are required.
Some of the major products are jute bags, braided articles, caps/hats, table mats, foot-mats, carpets, loom base jute-cotton fabrics, etc are major clusters of jute products found in the districts like Dhubri (Alamganj, Bogolumari, Gauripur, Chala Kura Char), Morigaon, Nagaon, Tinsukia (Margherita), Goalpara, etc. The famous word 'Sital-pati' means cool mat. The makers are usually Kayasthas in caste, not a traditional craftspeople caste. The raw material is the Murta cane (Maranta dichotomus). The murta plant grows, on marshy and water-logged areas and is found in abundance in choked up tanks and damp hill slopes. The production of sital pati is purely a household industry.
7. Wood carving: Found extensively in Sonitpur district; the artisans produce various type of wooden rhino, elephants, decorated pieces of wall hanging etc. This industry needs to be encouraged as there are very talented artisans in wood art in Assam.
8. Water hyacinth: is abundant in Assam and presently used as organic manure in dry or wet condition for jute and potatoes; mostly in Nagaon & Morigaon districts. The tea gardens of Assam have started using water hyacinth as mulching materials. Water Hyacinth is used as animal feed mostly for cows and buffalo in Assam. From July, 2008, (an initiative of NEDFI) water hyacinth is now being used for manufacturing of various Craft items for furniture and variety of interesting decorative items.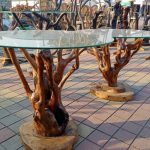 9. Craft from wood of tea bushes: The roots of dried tea bushes are used for production of various decorative products like table tops. These are found predominantly available in upper Assam region and have a very good market in Assam and all over India. This cottage industry involves skilled artisans.
10. Areca nut sheaths: There are more than 70000 hectares of areca nut plantation in Assam. Around 10 sheaths fall from each areca nut plant every year. Thus, there is abundant raw material available to produce eco plates, bowls, spoons and forks. These natural and attractive and easily moulded utensils can be used for serving food; are eco-friendly, bio-degradable, microwave usable, and can hold liquid for 4 to 6 hours. Raw material from Assam is feeding the production in the south of India.
11. Clay and Terracotta: The famous locations are Asharikandi in Dhubri district,Hajo( Chonmaguri) in Kamrup district, Majuli in Jorhat district. There are two traditional potter communities—Hira and Kumhar. The Kumhars use the wheel to create figurines of Gods and Godesses and toys. The Hira community uses the compression method and not the wheel to make house hold utensils. These are essentially made by the women of the Hira community. the men procure raw material and are involved in marketing.
12. Bell Metal Products of Assam: Bell Metal is an alloy of Copper and Tin in the ratio of 78%:22%, the tin content adds to the rigidity of the alloy whereas copper and tin are both highly malleable and ductile metals on their own. Bell Metal or bronze is resistant to oxidation, The combination of low internal damping and low internal sound velocity that makes it suitable for resonant or percussion instruments.
The main articles produced in Sarthebari Bell Metal craft can be divided into the following three categories:
(i) Utensils : "kanhi" (dish), "bati" (bowl)," ban bati" (bowl with stand), "ghoti" "Koloh" (water vessel).
(ii) Utility Items: The utility items manufactured include "bota" (used for offering prasad and betel nut), "sorai" (used for religious purpose and to offer gifts to respected person), "tema" (box to keep ornaments & betel nut).
(iii) Items used for Musical and Religious Purposes: Apart from the utensils and utility items the artisans of the cluster also produce different types of Tals (Cymbals) used in religious ceremonies and as musical instruments in folk and traditional dances of Assam, Idols of different gods & goddesses made by cutting bell metal sheets and painting them. Besides these items, decorative items like flower vases, lamp stands, decorative clocks etc is also made in the cluster as per demand.