MV Vaikundam
Cruise Boat
MV Vaikundam has nine well-appointed cabins with attached washrooms on the lower deck and, a well-functional kitchen, air-conditioned and exquisitely set dining hall and bar with lounge on its upper deck.
MV Vaikundam is a boat whose hull was modelled on the traditional Kettuvallom or rice barges of the past. The rooms are made using wooden panels with wall papering, wood panelling, sparkling wooden flooring and the upper deck has some bamboo matting with bamboo poles for roof, following some of the traditional practices but contain all modern amenities.
The wooden hull of the boat on the upper segment is made by joining planks of local wood 'Aanjili,' using strong coir rope on the segments above the waterline. The wood is coated with a caustic black resin made by boiling cashew kernel and fish oil. The wood is periodically treated with the Neem oil and Fish oil. This is the traditional style called Kettuvallum.
Upper Deck
Main Deck

On-Board Highlights
The boat has two decks. The upper deck offers the open sun deck with a 360 degree view, an air-conditioned bar with lounge and an air-conditioned restaurant seating 22 guests. There is an Ayurvedic massage room on the upper deck too with male and female masseuses available.
There is a small onboard library
Indian and international cuisine is offered on board in the restaurant
The lower deck has nine cabins with the first cabin being the deluxe cabin and the balance eight being superior cabins. All cabins are air-conditioned with en-suite washroom and toilet facilities.
Each cabin has large windows, have twin beds with only one cabin offering double beds, a cupboard and side tables.
The electricity is run 24X7 and there is always running hot and cold water.
There is an on-board destination manager, cruise director and chef and there is a complete crew of twelve people for eighteen guests.
Food and Dining On Board
Well equipped kitchen managed by experienced Chef and service team.
Buffet Menu: Traditional Indian cuisines Vegetarian and non-vegetarian Indian food using locally available fresh products.
Beverages: Authentic Indian Wine and beer is available onboard – prior notice is required.
A special chef's meal is arranged serving Kerala Cuisine with fresh catch of seafood in a traditional style on a banana leaf.
On Board Experiences
Live Music: Local instrumentalists of the Thamburu , Flute and Tabla can be arranged on request
Art: Local mural painters can be invited aboard for demonstration on request
Entertainment: Board game and playing cards selection
Shopping: Onboard outlet to buy coir coasters,wooden caparisoned elephants and fresh spices.
Culinary: The following cooking demos curated by our onboard chef can be organised on prior request:
Food in Toddy Shops
Street Food of Kerala
Ayurveda Inspired Cuisines
Kerala Dumplings
Kerala cruise
Highlights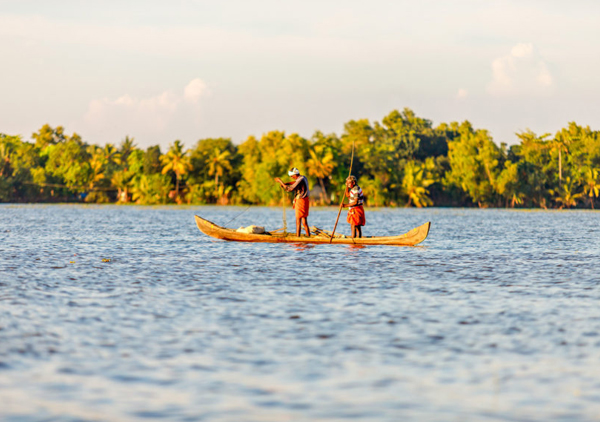 Witnessing Life by the River
On the journey through Kerala's backwaters, it's possible to visit a number of beautiful villages. We encourage travellers to witness this Read more
Churches in Kerala
The land of Kerala has been the first landing site of many cultures and religions into the Indian shores.Read more
Health and Spa
In order to experience the ancient holistic health practices which are still prevailing, we recommend the following off-board wellness experiences:
Yoga & Meditation for inner wellbeing – A professional Yoga master will demonstrate the basics.
Authentic Ayurveda: A traditional doctor, gives a talk on Ashtangahridayam – the practical, user friendly interpretation of Ayurveda, compiled by the great Sage Vagbata that's extensively used in Kerala.
The Vaidyars/ traditional Ayurveda practitioners of Kerala are proficient in this most contemporary treatise of Ayurveda which many scholars consider an advancement over the earlier samhitas of Charaka and Sushruta, the pioneers of Ayurveda. The medicines are hygienically prepared using the herbs locally available.
Guests can choose to get a massage recommended by a doctor. While these massage are not allowed on board, they can be offered at authentic centres on the shore.
Traditional Fitness Practices
Guests have the option of the following off-board activities 1.5 hours before breakfast:
Meditation
Essential Yoga Practices
Walk in the Morning
MV Vaikundam Cruise
Cabin & Prices
Deluxe Cabin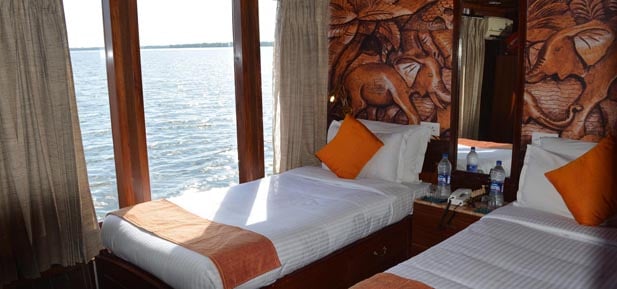 Superior Cabin
*Per night prices are valid for Thothapally – Thothapally cruising.
KERALA CRUISE
Itinerary
7 Nights North – South
Alleppey – Cochin
Starting from 3,380$

7 Nights South – North
Cochin – Alleppey
Starting from 3,380$

5 Nights North – South
Kochi – Changankari
Starting from 2,410$

5 Nights South – North
Changankari – Kochi
Starting from 2,410$

2 Nights North – South
Thottappalli – Alleppey
Starting from 970$

2 Nights South – North
Thottappalli – Thottappalli
Starting from 970$

REQUEST FOR
Reservation & Quote
our
Awards
Below are some of the awards won by us.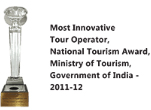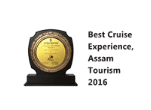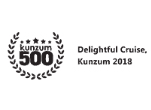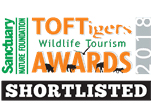 Copyright 2019 adventurerivercruises.com All Right Reserved.