Weather & Seasonal Information
• There are four distinct seasons in Assam – summer, monsoon, autumn and winter. The best time to visit Assam is in the autumn and winter seasons, i.e. from October to April, which is also the festive season of Assam.
• While winter days are usually sunny, the temperature can fall to 8 degrees Celsius (46 F) at night.
• Our cabins are air conditioned and heated for your comfort, but you should include warm clothing, hats and jackets in your packing when visiting during the winter months.
• Kaziranga National Park is open from 15th October until the 30th of April. During the first half of October and May, the Park has a "Partially Open" status which means that the Park will be open but that not all roads may be navigable as they work to restore them to pre monsoon standards.
• Please note, there are no elephant-backed or jeep safaris between May and the first half of October. Boat safaris will be offered instead during these months.  During the months that the Kaziranga National Park is closed, we are able to explore the shores of the Park with our expedition boats. We will cruise the Park shoreline and many of the riverine islands that are home to a number of animals and a wide variety of birds.
• During the peak winter season of mid-December to mid-February, the itinerary will be adjusted according to daylight hours as the M.V. Mahabaahu does not sail during darkness. In order to provide for full coverage of the Kaziranga National Park during these winter months, we will not visit Bishwanath Ghat.
Historical Monthly Averages in Guwahati and Silghat
| Month | Day – Temperature | Night – Temperature | Relative Humidity | Approximate Sunrise/Sunset | Wing Speed |
| --- | --- | --- | --- | --- | --- |
| October | 30°C / 87°F. | 22°C / 72°F | 83%. | 0521hrs / 1656hrs | 1 knot |
| November |  28°C / 82°F | 17°C / 63°F | 81%. | 0541hrs / 1633hrs | 1 knot |
| December | 25°C / 77°F | 12°C / 54°F | 80%. | 0602hrs / 1633hrs | 1 knot |
| January | 23°C / 74°F | 11°C / 51°F | 78%. | 0610hrs / 1650hrs | 1 knot |
| February | 26°C/ 79°F | 13°C / 55°F | 71%. | 0555hrs / 1715hrs | 2 knots |
| March | 29°C / 85°F | 16°C / 60°F. | 63%. | 0526hrs / 1734hrs | 3 knots |
| April | 30°C / 87°F | 20°C / 67°F | 72%. | 0502hrs / 1745hrs | 3 knots |
Temperature in Jorhat is 2 degrees below the above temperatures.
River Condition & Disclaimer
• River cruising in this part of the world is an adventurous experience. Assam is still in the developing stages of tourism and the developing infrastructure is rushing to keep pace with the rapidly growing interest in this part of India. As such, our voyage is an expedition-style cruise with all creature comforts on-board. Our shore-side staff will make every effort to attend to your comfort during onshore expeditions. However, vehicles and roads may not be of the same standard that you have experienced elsewhere, although we use the best of what is available locally.
• Please note, this itinerary is subject to weather and river conditions. The Captain/Cruise Director reserves the right to adjust the itinerary for passenger safety and comfort.
• The Brahmaputra River is subject to seasonal fluctuations. Islands and sand bars can appear and disappear between one sailing and the next. Also, being one of the highest precipitation zones in the world, our program is subject to weather and River conditions.
• Also, we reserve the right to convert the direction of the cruise from upstream to downstream or vice versa without any compensation
our
Awards
Below are some of the awards won by us.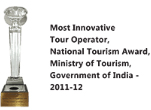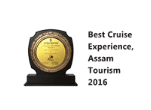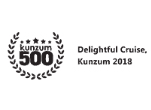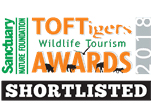 Copyright 2019 adventurerivercruises.com All Right Reserved.