Legend of Shiva's Tandav and Vishnu's Disc in Guwahati in the ancient region of Kamrup.
Ascetic Shiva's cosmic tandav with the lifeless body of his first consort Sati from Daksha's (Sati's father) Yagya compelled Bhagwan Vishnu to use his Sudarshan Chakra (disc) to cut Sati's corpse into pieces to calm Shiva.
Fifty-one Shakti temples have been erected at spots across the Indian sub-continent where the body parts fell.
These Shakti peeths (Devi or Goddess temples) are revered as powerful energy spaces. Devi temples represent 'Prakriti', the creative expanding forces of nature. These Sati Shakti-peeths have some common unique features which makes it easy for us to recognise these Devi Temples.
All Sati Shakti Peeths are located atop a hill or in a mountainous location. Secondly, there exists a Sati Pindi or a human body organ in the form of a stone.
Along with the Sati Pindi, there always exists a Swayambhu Shivaling which extends till Patala or towards the core of the earth and cannot be shifted or unearthed in any way. There always exists a Kshetrapal (guard of the premises)—Bhairav who is appointed by Lord Shiva to safeguard the Shakti-peeth from all evil forces.
From ancient times, there exists close-by, a funeral pyre or cremation ground (chitabhoomi) as Chita (the burning pyre) or bhasma (ash) is priya (close to heart) to Shiva.
Guwahati is one such spot where the Yoni (womb or vulva or genitals) of Sati fell. This is the spot where the ancient temple of Kamakhya was built.
The complete annihilation of Sati's body by Vishnu ended Shiva's Cosmic Dance of destruction due to deep grief when he finally sat down for maha-tapasya (severe meditation).
Legend of Kamdev and the etymology of the name Kamrup (a region of present-day Assam)

Evil Tarakasura (a demon king) could be defeated only by Shiva's son but Shiva was in Mahatapasya. To end the cruelty of Tarakasura the Devas (Gods) decided to incite Shiva into matrimony.
Indra assigned Kamadeva who wields a bow made of sugarcane, and arrows decorated with five kinds of fragrant flowers to break Shiva's meditation. Kamdev can induce love and desires. He created akala-vasanta (untimely spring) and evaded Nandi (the Bull, Shiva's guard) by taking the form of a fragrant breeze and awakened Shiva from his deep meditation with a flower arrow.
Infuriated, Shiva opened his third eye which incinerated Kamdev instantaneously. Shiva saw Parvati trying to resuscitate Kamdev and fell in love with her. Shiva agreed to let him live as a formless being.
Kamdev's wife, Rati; pleaded with Shiva to restore him to his former form. Shiva advised Kamdev to meditate where Sati's Yoni (womb) fell. This region where Kamdev regains his rupa (form) becomes Kamrup.
Kartikeya, born of Shiva and Parvati, goes on to end the evil Narakasura.
Pragjyotishpura—Present Day Guwahati, an ancient capital city of medieval Kingdom of Kamrup
Pragjyotishpura is derived from Sanskrit language; Prag + Jyotish + Pura; 'Prag' means eastern an 'Jyotish' means astrology. 'Pura' stands for city. So Pragjyotishpura was the eastern city or seat of astrology. The existence of ancient 'Nava-graha' (Nine Planet) Temple is an indication of the fact that indeed this was a renowned seat of astrology.
The present-day Guwahati is a busy modern city poised on the North and South Bank of the River Brahmaputra. The Guwahati Tea Auction Centre (GTAC) is among the busiest tea trading centres of the world; Assam being the second largest producer of tea after China. Mainly CTC and Orthodox tea is produced and traded.
Sualkuchi
Sualkuchi a silk weaving hub on the north bank of Brahmaputra gets its name from the sual tree on which silkworms are raised. On the entrance dwar (gate)to this village is etched in Assamese "Dharma aru karma sanskritir milanbhumi /Bastranagari Sualkuchi loi aado¬roni" which means; Sualkuchi, the land of unity of faith and work culture welcomes you to the town of silk cloth.
Here the Assamese women weave the white 'paat' silk; that dries in the shade and hides in a fist, warm 'eri' and the expensive superior quality golden 'muga' silk threads. These silk threads are woven into chaadars, saris, shawls, dress material, rihas and gamochas.
Guwahati is rightly a sacred Hill City of pilgrimage sites
The hills around Guwahati are home to ancient temples and are a source of 'aastha' (faith) for Hindus, Jains, Buddhists, and Muslims.
Nilachal Parvat or Hill on the south bank of Brahmaputra supports the famous Shakta Maa Kamakhya (Goddess of Desire) Devalaya (Temple). The various historical legends indicate that worship of Kamakhya is undatable; She has been a converging point of all the communities; be it on the hills, forests, villages, or cities of Assam and Kamakhya temple is a pilgrim for all Hindus from all over the world.
Bhasmachal (Bhasma-ashes, achal-a hill), the smallest inhabited river islet of the world; where Umananda Devalaya is established is primarily a shrine dedicated to Lord Shiva. Legend has it that Lord Shiva lived here much to the 'ananda' or joy of his consort Uma (Parvati).
This island resembles a peacock's feathers splayed in full view and a poetic British Officer conferred it with the name 'Peacock Island'. The temple displays mixture of both Hindu Vaishnavism and Shaivism. There are Assamese crafting of Ganesh, Shiv, Parvati, Vishnu, and other Hindu deities.
Hajo, a region of hills, 25 kilometres north-west of Guwahati is a pilgrimage site for regional Hindus, Buddhists, and Muslims. The word 'Hajo' is derived from Boro or Bodo tribal word 'Hajw' which means Hill.
Chitrachal Hill or Navagraha Hill has the Navagraha Temple; enshrined are nine Shivalingams with one Shivalingam in the centre symbolizing the nine planets around the Sun. These shivalingams are covered with a coloured cloth related to these celestial bodies.
Gaurachal Hill in Hajo is the site of Poa (a quarter or) Mecca, a tomb of Giyasuddhin Aulia and a mosque is considered a place of pilgrimage for the Muslims.
Manikut Parbat or Hill of Hajo is the site of temple complexes for Vaishnavism as well as shrines of Shaivism and Shaktism.
Shri Shri Hayagriva Madhav temple is a part of the sacred geography and here Vishnu is worshipped as a horse-headed deity.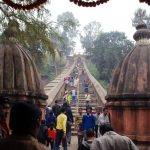 Madanchalla Hill is another such sacred space for the Hindus is Kedareswara Temple in Hajo. The reigning deity is Lord Shiva.
The uniqueness of this temple is the 'Swayambhu (self-originating) Linga (phallic symbol)' and that too in the Ardhanareshwara or androgynous form.
Guwahati is a city of temples: Besides the ancient Hindu temples there are other powerful ones frequented by the hindus; like Ugratara, Ashwakalanta, Dirgheshwari, Bhubneshwari, Sukreshwar, Rudreshwar, Manjikarneshwar, and Lankeshwar Temple. These are spread all around Guwahati.
Tanks and Ponds—The water bearers of Guwahati
Water bodies play a crucial role in the lifestyle of Assamese populace. Building ponds was not just a prerogative of the royalty, even an ordinary Assamese builds his house with mud excavated from the pond while its water would be used for drinking, washing, batching, kitchen cleaning, gardening, and rearing fish. This is the culture and tradition of Assam even though the state is mostly an alluvial plain of severe floods and with plentiful network of rivers that provide people with sufficient water.
Tanks or ponds were built by the kings for drinking water, irrigation, rituals, beautification and to protect biodiversity and community fishing.
For a city like Guwahati these waterbodies help control water loss during rainfall and maintain groundwater level. These tanks play a critical role in maintaining surface water repositories of the city.
Dighalipukhuri, literally 'long pond' is an elongated pond believed to have been dug by Bhagadatta (son of Narakasura), the king of Pragjyotishpura. The pond was connected to the Brahmaputra in the north and to Solabeel wetland in the south by a channel that was filled up for the Guwahati railway station, high-court and other infrastructure.
Silpukhuri, originally known as the Nau-Konia Pukhuri (pond with nine-corners), was built along with the Navagraha (nine-planets) temple by the Ahoms.
Jorpukhuri, the erstwhile Ugratara temple pond, is said to be built by Swargadeo Siva Singha in the service of the temple. This was also connected to the Brahmaputra through the Naojan channel used by the kings and nobles for commuting to the temple. The British constructed a road in the middle of the pond, dividing it into two, and earning it the name Jorpukhuri, meaning twin ponds.
Nagputa/Nagkata Pukhuri is said to be one of the oldest ponds in the city.
Many of these temple ponds in Guwahati are home to several rare and endangered species of turtles.
Guwahati; The Cruising City of Assam
Lokpriya Gopinath Bordoloi International Airport offers flight for ease of travel both for business and tourism. It is possible to commute from here to all sectors of India. Guwahati Airport provides a convenient link to Paro, the capital of Bhutan for both national and international tourists travelling in the north-east. All cruise lovers arrive in Guwahati with ease.
Cruising on MV Mahabaahu, a luxury vessel introduces us to the Kamakhya Temple and the smallest riverine island of Bhasmachal popularly known as the Peacock Island on the first day of the 7-night cruising.
This island can be reached comfortably by sailing north-east on MV Mahabaahu and then by tenders to the island. Alongside the island is a rocky outcrop that supports a colonial-era lamp post
Architecture of ancient and present day Kamakhya Temple
Historians suggest that Kamakhya is an ancient sacrificial site for a Garo and Khasi tribe's goddess, Kameikha (old-cousin-mother) and the folk-lore supports this fact. Kalika Puran and Yogini Tantra tell us that Goddess Kamakhya is of Kirat origin and predates the kingdom of Kamrup.
According to the Tezpur plates of Vanamala Verma Dev of the Mlechchha Dynasty and archaeological evidence it can be assumed that it was built by the Mlechchhas.
The mouldings of the plinth and the bandhana indicate that the original temple was clearly built in Nagara style. The basic floor plan of Nagara style temples is square, it has many graduated projections (rathakas) in the centre of each face which imparts a cruciform shape to the exterior. A temple tower/conical/convex shikhara marks the elevation of these temples. The shikhara comprises of numerous layers which are carved these are usually crowned by an amalaka; a notched ring stone. It is quite common to see the entire temple built on a stone platform with steps leading up to it. Nagara temple styles are very popular in the northern parts of India.
The current structural temple and the rock-cut sculptures strewn in the vicinity indicate that the temple has been built and renovated many times in the period 8th–9th, 11th–12th, 13th–14th centuries and even later.
The present day Kamakhya temple has the main ancient part of the temple; a modified dome in the Nagara style. In the Nagara style the adhisthana or the base is made of rock. The current form, from the 16th century has given rise to a hybrid indigenous style that is sometimes called the Nilachal type: a temple with a hemispherical dome on a cruciform base.
The temple consists of four chambers: garbhagriha and three mandapas locally called calanta, pancharatna and natamandira aligned from east to west.
The garbhagriha has no Devi Idol but a Devi Pindi made of rock and is below the ground level and the stairs leading are quite steep. The shape of the Shikhara is like that of a beehive with golden pitchers on a blossoming lotus and a trident, characteristic of a Shiva temples. Though the lower portion is of stone, the shikhara in the shape of a polygonal beehive-like dome is made of brick, which is characteristic of temples in Kamrup. The shikhara is circled by number of angashikaras of Bengal type charchala.
The antarala carries a two roofed do-chala; Bengal style design.
The Bhogmandir or pancharatna with five honey-comb structures is like the main temple. The natmandir has a shell-roof with apsidal end which is a unique Nilachal style.
The Kamakhya temple is amongst the famous Shaktipeeths mentioned in the Kalika Puran as the most important Goddess of Tantric worship, Sati Devi's genitals had fallen here.
This temple is atop Nilachal Hill or Kamagiri in Guwahati, Assam. The ancient name of the city was Kamrupa, Hari Kshetra and Pragjyotishpura. This place is also known to be the capital city of the demon Narakasur.
There are five temples dedicated to Lord Shiva in the Kamakhya complex; the various forms of Umananda or Kameshwar, Siddheshwara, Amratokeshwara, Kotilinga and Aghpra.
Shaktas believe, "the one Truth is sensed in ten different facets; the Divine Mother is adored and approached as ten cosmic personalities," the Dasha-Mahavidya ("ten-Mahavidyas"). The Mahavidyas are Tantric in nature, and are usually identified as: Kali, Bhairavi, Bhuvaneshwari, Tara, Bagalamukhi, Kamala, Chhinnamasta, Tripura Sundari, Matangi and Dhumavati and are very much a part of the engraved structures on the walls of Kamakhya temple.
How does one experience the Guwahati?
MV Mahabaahu offers an expedition form of cruising on the mighty Brahmaputra that refuses to be tamed. MV Mahabaahu is a 23 cabin (2 suites, 2 Luxury Cabins and 7 Deluxe Cabins with private balconies and 12 Superior cabins with large picture windows.) motor vessel offering a seven-night eight-day rendezvous, Sunday to Sunday from October to April.
The 7 night Upstream itinerary from starts at Guwahati and ends in Jorhat in the State of Assam, while the 7 night Downstream itinerary starts from Jorhat to Guwahati in the State of Assam. Airport connectivity is available at Guwahati and Jorhat. All inclusive price starts from USD 350* per person per night for base category cabins.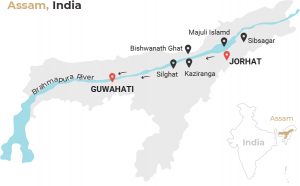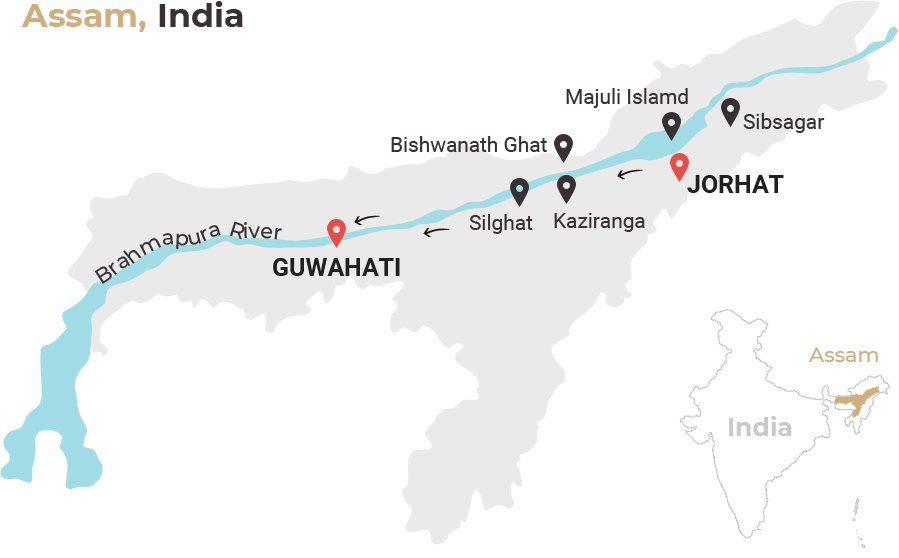 The Itinerary is subject to weather and river conditions or if we are faced with any political challenges. The tourism season is from October to April: In the coldest month of January, the temperatures range from 60-degree Fahrenheit to 70-degree Fahrenheit or 15-degree Celsius to 21-degree Celsius. Warm layering is required. Light rain can be expected so a parasol/mackintosh would be useful.
Binoculars and cameras will enhance the experience. Casual light comfortable clothes, comfortable walking shoes for all excursions, sun shades and hats are recommended. We organise Sit-down dinners at the end of the day. Breakfast and Lunch are buffet setting. Drinking Water systems are fitted in all cabins along with flasks for excursions. Tea/Coffee/cookies and hot water kettle facilities are available in each cabin. All items in the Minibar are chargeable. Laundry/Sauna/Steam/Jacuzzi/Ayurvedic therapies/Rejuvenation Massages/ Hair Spa facilities too are available on board.
Yog practice on pristine deserted sandy islands and to stroll the soft silver carpet of sand and continue into numinous bonfire evening under the distant suns that twinkle in our night sky of the northern hemisphere. Barbequed snacks in ethnic tribal style, a local brew to wash down, some games to indulge in and a traditional reverence to the son of Brahma for a safe passage completes the enthralling journey
Cruise with Confidence: We've added fresh procedures to upraise our hygiene ideals for every facet of onboard practice; air filtration systems, personal steel flasks, cabin-based water filtration units and added hand sanitizer stations at all exits and entries. Immunity-enhancing herbal teas, Yoga and nature-walks, cruising in the lap of wilderness and enjoying beverages on silver sands of deserted islands away from civilization are conducive in times of pandemic or any other infection. Ayurvedic treatments, Steam Sauna, and Jacuzzi for rejuvenation and a Paramedic on board are an added advantage.
*Terms and conditions apply.