5 Nights 6 Days – North South Package
Cochin-Thottappalli
River Backwaters, Kerala, India
Our upstream journey starts from Cochin and end at Thottappalli only.
Fare Starting INR 1,07,500 per cabin
Day 1: Embarkation at Marad /Cochin
This morning we arrive in Nettoor village in Cochin to watch Kalarippayattu-the traditional martial art, at an authentic training centre-Kalari. Drive to the nearby village Marad and embark on our boat by noon. The team on-board welcome you to the boat and help you with smooth check-in. Gather at the lounge for a briefing about the boat and about the cruise a. Unwind, as the boat leaves behind the rapidly city and gently cruise through the interconnected rivers, lake and coastal estuaries. We pass by the interspersed islands surrounded by coconut trees. Enjoy the traditional lunch and relax on-board.  
Our expert  will talk about Cochin, the Queen of Arabian Sea, and its geographical, cultural and social significance. 
We arrive in the ancient village Vaikom by evening. By tuk-tuk or by foot we proceed to the ancient temple of Shiva. We take a walk around the temple to get to know about its history and architecture. The architecture of temples in Kerala is based on ancient science of construction and geographical features of the land. As per the traditional architecture, the each element   of temple represents an element of human body, and, a temple is not only the space for spiritual enlightenment but also the venue for harmonious social networking. Return to boat. After dinner, we retire for the night.
Meal Plan (B, L, D)
Day 2: Vaikom-Chenganda-Kumarakom
After breakfast on the boat,by tuk-tuk or by foot we proceed to the cultural centre in the locality to watch the traditional dance performance – Kathakali, the traditional dramatic and mimetic dance form, which plays stories from epics. It is a unique blend of dance, music, action, literature and make-up.
Cruise to Chenganda village. The people of this rustic village are having a laid-back and peaceful life. Spend time with the coir weavers, the shell harvesters and farmers, engaging in conversation about the riparian life and watching various indigenous techniques of fishing. Return to boat for lunch.
Cruise through Thanneermukkom barrage. The barrage at Thanneermukkom built across Vembanad, the largest lake of Kerala, divides the lake into two; one half with perennial salty water and the other with fresh water enriched by 5 rivers from hills.We talk about indigenous practices of paddy cultivation in Kuttanad
Cruise to the expanses of lake Vembanad experiencing its wetland ecosystem. We visit a farm house by evening. This house is located on an island which was made by the men of the house, by reclaiming land from Backwaters. A walk in the farm will be educative. The hostess will demonstrate the preparation of traditional Syrian Christian cuisine. You may also try your hand at cooking and listen to the story of her family, of three generations of hard working men, and equally strong women who supported their pioneering spirit. We will have dinner at this house. Return to boat and retire for the night.
Meal Plan (B, L, D)
Day 3: Kumarakom- Kavalam
Having an early and light breakfast, we set out by country boat to watch the migratory and endemic birds of Kumarakom, which is a cluster of lagoons of lake Vembanad, at the backdrop of mangroves, paddy fields and coconut groves.
Waterfowl, cuckoo, owl, egret, heron and the water duck are some of the endemic species seen here. Parrots, teal, larks, flycatchers, wood beetle, and other birds are seen here during their respective migratory seasons. Return to the boat, refresh and while cruising elaborate breakfast will be served.
While cruising the lake we get a glimpse of the rich wetland ecosystem of Lake Vembanad. While cruising, have lunch onboard. We arrive in Kavalam where  we watch a folk dance performance (Kaikotti kali) by the girls of the village. Return to the boat and cruise till dusk, further interior to Veliyanad village. After dinner retire for the night.
Meal Plan (B, L, D)
Day 4: Kavalam-Kainakari-Pulinkunnu
After breakfast we cruise to Kainakari.We visit the  ancestral home of Saint Kuriakose Chavara which is now preserved as a museum.  Saint Chavara, the first canonized Catholic male saint of Indian origin, was the co-founder of the first congregation for men, the Carmelites of Mary Immaculate-C.M.I., and of a similar one for women, Congregation of the Mother of Carmel-C.M.C.
Return to boat. After having lunch on-board, cruise to Pulinkunnu village. Get closer life along the way, paddling along narrow canal by country boat, interacting with the villagers. Return to boat. After dinner retire for the night.
Meal Plan (B, L, D)
Day 5: Pulinkunnu-Nedumudi-Champakkulam-Changankari
After breakfast, cruise to Nedumudi. On arrival at Nedumudi we drive through the quaint and scenic villages to Mannar which is famous for bell metal craft.
We interact with the artisans and watch the indigenous method of casting of traditional lamps, utensils and ornate locks. Return, refresh and have lunch and relax on-board.
We cruise to Champakkulam village. Kerala's old spice trade used to pass through this town en route to Cochin and other ports on the west coast. Settled more than 1000 years ago by Syrian Christian traders, who later converted to Roman Catholicism under the Portuguese, the people chose to keep their syncretic cultural heritage. This can be seen in the monumental St Mary's Church on the riverside.
Built in 1550, the foundations are said to be as old as 5th century AD. Architecturally, it is a mélange of several European styles, from the Levantine altar and structure to the Dutch arches that tower overhead.
We visit the old church, a school, the local artisans (open on weekdays) who skillfully and passionately craft biblical heroes. Take a look at the Snake boat (Chundan Vallom) of the villagers, gracefully docked on the shore. These types of boats, which are being used for races today in modern days, were once maritime war boats and their structure and design reflect the prowess of ancient Kerala architecture and are one of the icons of Kerala culture.
Cruise to Changankary village till dusk, passing through the serene canals. You may relax on board or take a walk. After dinner retire for the night. .
Meal Plan (B, L, D)
Day 6: Changankari-Thakazhi-Thottappalli
Cruise to Thottappalli. After having early breakfast, check-out from boat.
We drive to the prosperous and picturesque midland to Konni village. (You may have to wait near a railway cross), at the backdrop of forest.Spend time with elephants at a shelter camp. Elephants are integral part of Kerala culture. It is the State animal and is featured on the State's emblem. Pageant of caparisoned elephants accompanied with percussions   is the high-light of all temple festivals in Kerala.
Drive to Aranmula village which is home to a family of craftsmen who are skilled at making mirror out of a special combination of certain metals. The secret of the trade has been passed down through generations. These mirrors have the distinctive feature of 100% reflection unlike the common mirror. Local people  consider it as  auspicious to keep it at home to attract prosperity and luck. Visit the mirror makers and watch the different stages the craft in progress. The ancient temple of Krishna, Snake boat building, the mural art, the school of traditional architecture are the other highlights of this  old village of heritage value.
Lunch will be arranged at a local house of beautiful architecture, located on the bank of Pampa, the holy river of natives. The host will talk about the art of Snake boat building and the ritualistic annual regatta in Aranmula.
Meal Plan (B, L)
Land Transport

By Air-conditioned Vehicles and Local Tuk-tuk
Naturalist/Destination Manager

Meals

Breakfast Lunch and Dinner
Internet

Available with Wifi Dongle
Airfares: International or Domestic Airfares
Taxes: 5% Government Tax. Or any other tax levied in the future.
Evacuation Charges: For medical emergencies or any other reasons
Insurance: Any travel insurance or personal insurance.
Assisted Transfers
Personal Expense: Laundry, calls, extra liquor, camera fee, medical, spa etc
Force Majeure
Available Departure Dates
| Sno. | Boarding Date | De-boarding Date | Cruise Direction | Status |
| --- | --- | --- | --- | --- |
| 1 | 18-Oct-2019 | 23-Oct-2019 | South-North | Available |
| 2 | 15-Nov-2019 | 20-Nov-2019 | North-South | Available |
| 3 | 25-Nov-2019 | 30-Nov-2019 | South-North | Available |
| 4 | 14-Feb-2020 | 19-Feb-2020 | North-South | Available |
| 5 | 13-Mar-2020 | 18-Mar-2020 | South-North | Available |
| 6 | 10-Apr-2020 | 15-Apr-2020 | North-South | Available |
Updated: 15 January 2019
Package Price For RV Vaikundam
* Prices are valid until May 2020.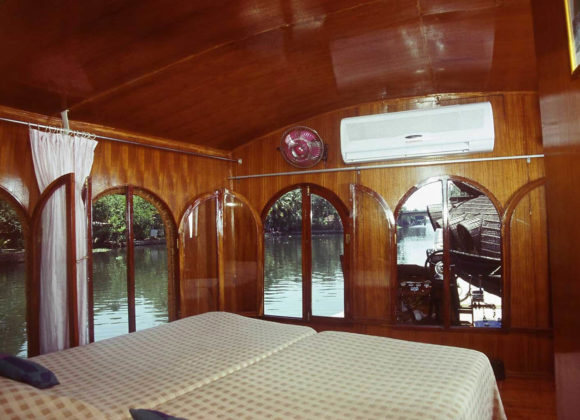 Package Price For RV Sauver Nigam
* Prices are valid until May 2020.
OTHER INFORMATION
All bookings are subject to availability and terms and condition.
Cruise Check-In 1400 hours, Check-out time 1200 NOON
As the first operation on this itinerary will be undertaken in end Sep 2019. The itinerary might need to be amended with minor modification post the first launch, exploratory cruise departure.