3 Nights 4 days Thottappalli – Kumarakom
Alleppey – Cochin
River Backwaters, Kerala, India
Our upstream journey starts from Thottappalli and ends at Kumarakom capital city Kochi.
Fare Starting INR 64,500 per cabin
Day 1:
Arrive at the coastal village of Thottappalli to embark the River Cruise
This lush and serene village by the spillway helps to drain the excess waters of the rivers from the Western Ghats into the low lying Kuttanad area partly to the east and the rest to the saline river mouth to the west.
We explore the narrow canals and arrive in the quaint village of Karumadi. The village is famous for its black granite partially broken statue of Buddha (9th or 10th century) that was recovered from the Pampa river in the last century. It is protected as a remnant of Buddhism that prevailed in ancient India. We interact with a toddy tapper and watch how he climbs coconut trees and taps the sap of coconut flowers which when fermented becomes Toddy, an alcoholic beverage.
Meal Plan (B, L, D)
Day 2:
Cruise to Kanjippadam village
We take a walk around the temple and meet the devotees. We interact with the village folk and understand their relation with the Coconut Palm.
We watch women occupied in spinning coir rope, weaving coconut palm leaf, drying coconut in the sun extracting oil and cooking delicious cuisines using fresh coconut.
We cruise to the interiors of Kuttanad, watching the activities on the vast expanses of paddy fields and arrive in Kainakari village. The best way to enjoy the village is by country boat or by a relaxing walk.
Our Chef will demonstrate duck and tapioca preparation, a local delicacy of the farmers of Kuttanad.
Meal Plan (B, L, D)
Day 3:
Cruise to Champakkulam & Pulinkunnu
Our sundeck is ideal for some Yoga and meditation. After breakfast we cruise to the interiors of an ancient coastal village of Champakkulam where we visit an old church, meet children of a school and watch artisans sculpting biblical heroes.
Here we see Snake boats or Champakulam Chundans that were supposed to be Navy boats of Chempakasserry rulers; their structure and design reflect the prowess of ancient Kerala architecture. Traditionally each boat belongs to a village, and the villagers worship that boat like a deity. These are now used for racing during festivals. Only men are allowed to touch the boat, and to show respect they should be bare feet. Here we interact with the caretaker to know the nitty-gritties of construction of these boats and interesting tales.
We buy some fresh catch from the local fishermen and the chef on-board indulges us in delicacies flavoured with local spices served on banana leaf.
We visit the dockyard and interact with the Houseboat builders. After dinner on Nova's boat we return to River Cruise for overnight stay at Pulinkunnu village.
Meal Plan (B, L)
Day 4:
This morning we enjoy a walk in the village along the Pampa River and observe the village bustling with life and routine. We enjoy a couple of hours more of cruising along this unique wetland eco-system. After breakfast, we disembark at 9am. Here in Thottappalli we plant a coconut sapling to honour this home of Kera.
Meal Plan (B)
Land Transport

By Air-conditioned Vehicles and Local Ttuk-tuk
Naturalist/Destination Manager

Meals

Breakfast Lunch and Dinner
Internet

Available with Wifi Dongle
Airfares

International or Domestic
Personal Expense

Laundry, Wines & Spirits, Camera/video Fee at Monuments/National Park, Salon/massages, Airport Departure Tax etc
Force Majeure

5% Government Tax. Or any other tax levied in the future.

Evacuation Charges

In case of medical emergencies.
Package Price For RV Vaikundam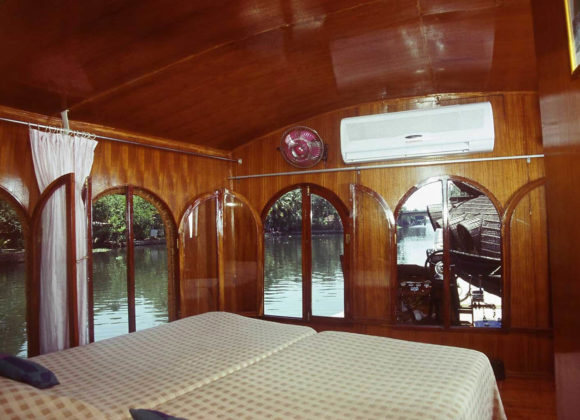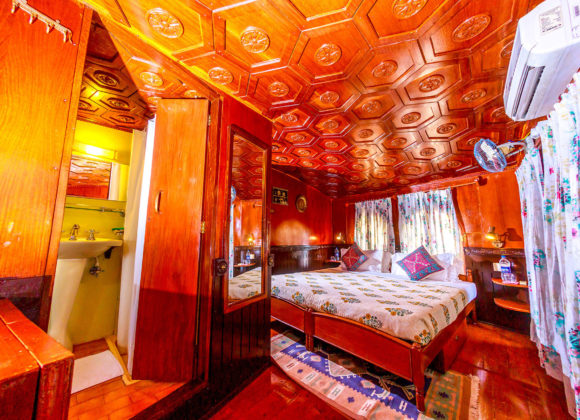 Package Price For RV Sauver Nigam
All bookings are subject to availability and terms and condition.
Cruise Check-In 1400 hours, Check-out time 1200 NOON
Prices are subject to change with an increase in the cost.
In a case on any currency fluctuations or amendment in local Government taxes, or any fuel hike, we intimate you of the supplement price.